Potato Casserole with Porcini Mushrooms (Tiella Di Patate e Funghi)
by Editorial Staff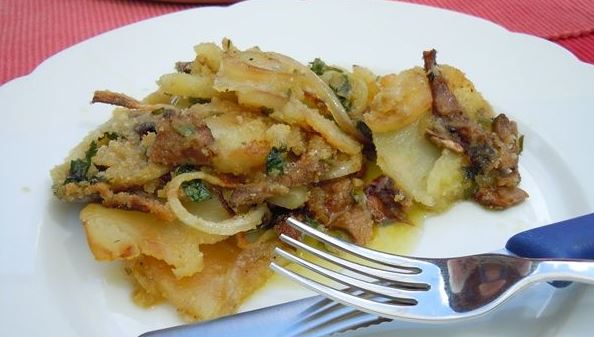 There is nothing tastier than a combination of potatoes and mushrooms. Remarkably simple and delicious Italian style potato casserole with porcini mushrooms.
Ingredients
Large potatoes – 2 pcs. (600 g)
Fresh porcini mushrooms – 300 g
(I took as many dried mushrooms as fit in my hand – a full handful)
Olive oil – 120 ml
Large onions – 1 pc.
Parsley, coarsely chopped – 3 tbsp
Salt to taste
Black pepper – to taste
Breadcrumbs – 50 g
Directions
Preheat oven to 200 degrees Celsius. Peel the potatoes and cut into slices, peel and chop the mushrooms, cut the onion into rings.
Grease a mold with olive oil. Lay the potatoes, mushrooms, and onions in layers.

Sprinkle each layer a little with olive oil, sprinkle with parsley, salt, and pepper.
Sprinkle the very last top layer with breadcrumbs.
And drizzle generously with the remaining olive oil.

Bake for 40-50 minutes, until golden brown on top.
Also Like
Comments for "Potato Casserole with Porcini Mushrooms (Tiella Di Patate e Funghi)"