Potato Pancakes without Eggs and Flour
by Editorial Staff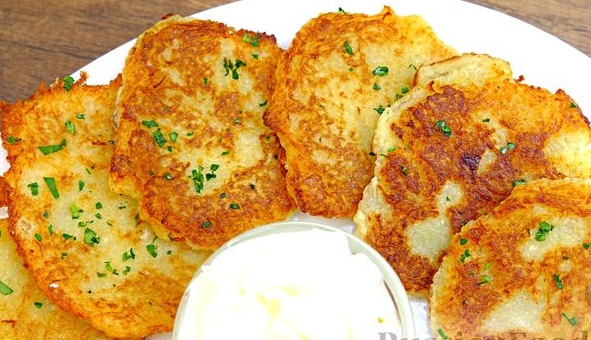 Did you know that real classic potato pancakes (or potato pancakes) are prepared exclusively from potatoes and onions, without adding eggs and flour? I offer a delicious and simple recipe for just such potato pancakes.
Ingredients
Potatoes – 500 g
Bulb onions – 1-2 pcs. (about 175 g)
Salt to taste
Sour cream (optional) – 1 tbsp
Vegetable oil – for frying
Sour cream – to taste
Directions
Peel the potatoes, wash and immediately start cooking potato pancakes. There is no need to soak potatoes in water, otherwise, starch will be washed out, due to which the finished pancakes keep their shape.
Grate the potatoes with the onions on a fine grater. Onions keep raw potatoes from darkening.
Stir, salt.
To prevent potato pancakes from darkening when they cool, you can add sour cream to them. I do not do this, because I believe that shingles should be eaten in the heat of the heat, then they simply will not have time to darken.
Put the grated potatoes with onions on a sieve set over a bowl. Leave the potatoes in this position for 5-10 minutes so that the excess liquid flows through a sieve.
Carefully drain the liquid, and add the starch that has settled at the bottom of the bowl back to the potatoes and onions.
Heat a frying pan with vegetable oil well. Put the potato mass in a frying pan in the form of small cakes.
Fry the pancakes over moderate heat for about 5 minutes on each side, until golden brown.
Put the prepared potato pancakes (potato pancakes) on paper towels so that excess fat is absorbed.
Serve hot potato pancakes with sour cream or other sauces as desired.
Enjoy your meal!
Also Like
Comments for "Potato Pancakes without Eggs and Flour"