Ratatouille
by Editorial Staff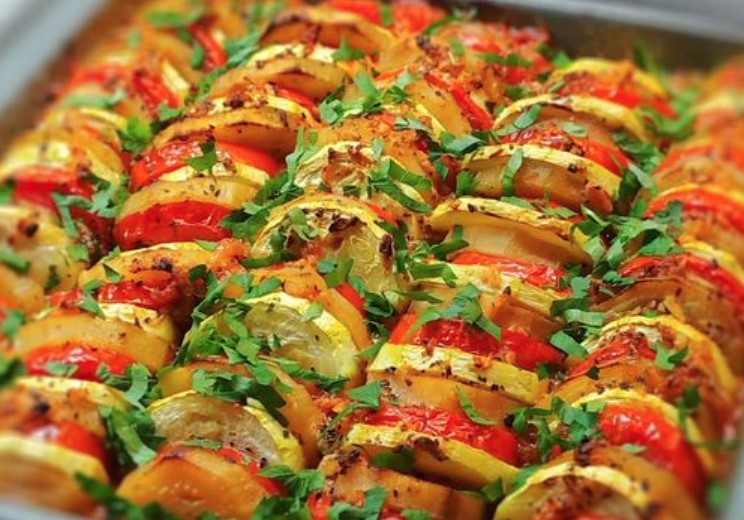 In summer, a bright, very tasty, and very aromatic dish – ratatouille.
Ingredients
Eggplant – 600 g (2 pcs.)
Zucchini – 600 g (2 pcs.)
Tomatoes – 1 kg (7 pcs.)
Onions – 150 g (2 pcs.)
Bulgarian pepper – 400 g (4 pcs.)
Garlic – 4 cloves
Olive oil – 100 ml
Ground paprika – 1 teaspoon
Dried Provencal herbs – to taste
Parsley (for serving) – to taste
Salt to taste
Directions
Fry finely chopped onion until transparent for 2 tablespoon. tablespoons of olive oil, salt.
Remove the skin from 3 tomatoes. Remove stalks and seeds from bell peppers. Dice the tomatoes and peppers and add to the onion. Fry vegetables for 10 minutes. Then grind the fried vegetables with a blender to the desired consistency. Put the finished sauce in an even layer on the bottom of the baking dish.

Turn on the oven and heat to 180 ° C.Cut the washed and peeled zucchini and eggplants, as well as the remaining tomatoes into 5 mm thick slices, and place on top of the sauce, alternating. Salt.
Top with olive oil mixed with chopped garlic, ground paprika, and Provencal herbs.
Cover the mold with foil and send to the oven, heated to 180 ° C, for 30 minutes.
Then remove the foil, bake for another 20 minutes.

Sprinkle the finished ratatouille with finely chopped fresh herbs.
Enjoy your meal!
Also Like
Comments for "Ratatouille"