Red cabbage in taste and nutritional qualities resembles white cabbage, but in appearance, its small red-purple heads of cabbage are much more spectacular and look especially good in salads. They are filled with vegetable oil and more, spices and herbs are added …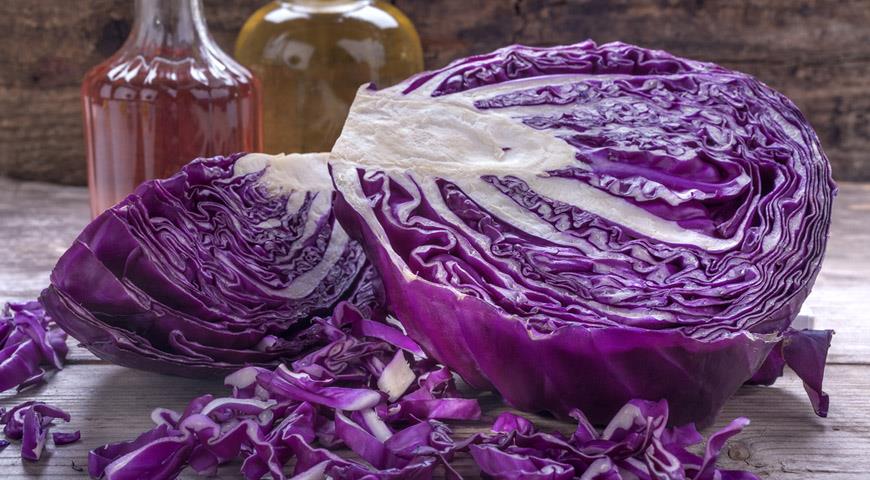 Product Description
Red cabbage in taste and nutritional qualities resembles white cabbage, but in appearance, its small red-purple heads of cabbage are much more spectacular and look especially good in salads. They are seasoned with vegetable oil and not only, but spices and herbs are also added. Red cabbage can be pickled, stewed, and fried, but you should not boil it, otherwise, it will lose all its beauty. It is very useful: the amount of vitamin C is almost twice that of white cabbage, and its juice helps with coughing.
Types and Varieties
It is easy for a culinary specialist to distinguish varieties of red cabbage - they differ in the growing season and ripening time.
All varieties and hybrids are divided into several groups: super-early, early-maturing, mid-early, mid-maturing, mid-late, late-maturing. The varieties and hybrids used in our strip belong to the Northern European group of varieties, these are mainly early ripening, mid-early and mid-late. In general, due to the variety of varieties, the cabbage season lasts from May to late autumn.
A close relative of red cabbage is white cabbage. Biologically, these are varietal varieties of cabbage. Cabbage, in turn, is a variety (subspecies) of garden cabbage, which also includes kohlrabi, cauliflower, Brussels sprouts, Savoyard, and other representatives of the vast cabbage universe.
How to Cook
The dishes that can be prepared with red cabbage are varied. In principle, the same can be prepared from it as from white cabbage, but when boiled it loses all its external attractiveness. it is better to use its beauty and eat it raw, that is, in salads.
If you find young red cabbage on the market in late spring-early summer, be sure to take it for salad.
Season
Young red cabbage - tender and crispy, ripening in May-June - very good in salad and green soup. Young cabbage contains vitamins C, A, B1 and B2, P, K, nicotinic acid, as well as fiber and trace elements. Young cabbage almost does not contain starch and sucrose, so properly prepared dishes from young cabbage will please even diabetics. What can we say about losing weight: the low-calorie content of young cabbage is also a plus here.
Strong heads of cabbage, which ripen towards the end of autumn, are good for pickling and stewing.
How to Choose and Store
Feel the outside of the cabbage to make sure it is firm. If the cabbage feels soft and viscous to the touch, rather than hard and dense, then it is most likely rotten inside.
Examine the leaves carefully. When choosing a cabbage, look for one with only a few leaves behind the head of the cabbage. If the cabbage as a whole looks uncovered, and many leaves are not pressed firmly enough against the core (center) of the cabbage, this vegetable may taste dry. If the leaves are too soft, then the head of cabbage is old and has been stored on the counter for a long time.
Do not buy cabbage with rotting signs. This can be seen immediately: the leaves are significantly damaged and there are many spots and dark areas on them.
As for late cabbage, heads of cabbage harvested after frost will be sweeter than those harvested before.
The cabbage should remain intact until you decide to eat it. After you cut the cabbage, it starts to lose vitamin C. If you need to save half of the cabbage, wrap it tightly in plastic wrap and store it in a refrigerator container. If you want to preserve the nutritional properties and crunchy texture of the cabbage, keep it cold.
Separate and discard the outer leaves before using the cabbage. This is especially important if some of the leaves have withered during transportation or storage.
Also Like