Reverse Fried Striploin Steak (Reverse Steak)
by Editorial Staff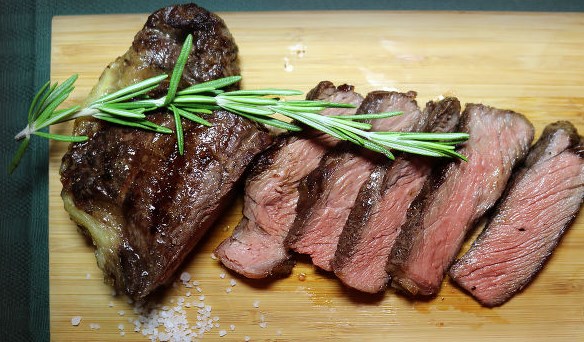 This method of roasting steaks helps to achieve the ideal result, the required degree of roasting, and its uniformity in 10 cases out of 10. In addition, it is not an easy task to cook steaks for a company of at least 6 people in one pan. But with "reverse frying" you can always do it easily!
Ingredients
Striploin steak – 1 pc.
Garlic – 5 cloves
Butter – 20 g
Olive oil
Fresh rosemary – 1 sprig
Fresh thyme – 3 sprigs
Salt to taste
Ground black pepper – to taste
How to cook a reverse sear steak:
Directions
To properly prepare this steak, we need to make cuts in the layer of fat that runs along with one of its sides. This is done so that during heat treatment the fat layer does not shrink and spoil the appearance of the steak.
Next, the steak must be seasoned with salt and pepper. And also grease with olive oil and evenly grind the spices over its entire surface. Repeat the same procedure on the other side of the steak.

Place the probe of a culinary thermo in the middle of the steak in order to have a clear idea of ​​its internal temperature. We send the steak to the oven on the wire rack to warm up at the lowest temperature. In my case, it is 130 degrees. We set the thermo to the desired temperature; today I want a medium, so I choose 60 degrees. We wait for the steak to warm up.

The steak was heated to the desired temperature in 42 minutes. It's time to remove the cooking thermo probe from it and move the steak from the oven to a well-heated skillet. For half a minute we give him a crust. Turn the steak over onto a strip of fat and let the fat melt a little. Then fry the steak on the other side for half a minute.

At this moment, the steak is prepared with additional flavors, and butter, a little vegetable oil (so that the butter does not burn), a sprig of rosemary, a few sprigs of thyme, and 5 cloves of garlic are sent to the pan. Pour the resulting aromatic oil over the steak using a spoon.

After half a minute, remove the steak from the pan. It is important not to delay this moment so that the steak is juicy and tasty. We put the steak on a plate and start eating.
Enjoy your meal!
Also Like
Comments for "Reverse Fried Striploin Steak (Reverse Steak)"