Rice with Spinach and Cheese
by Editorial Staff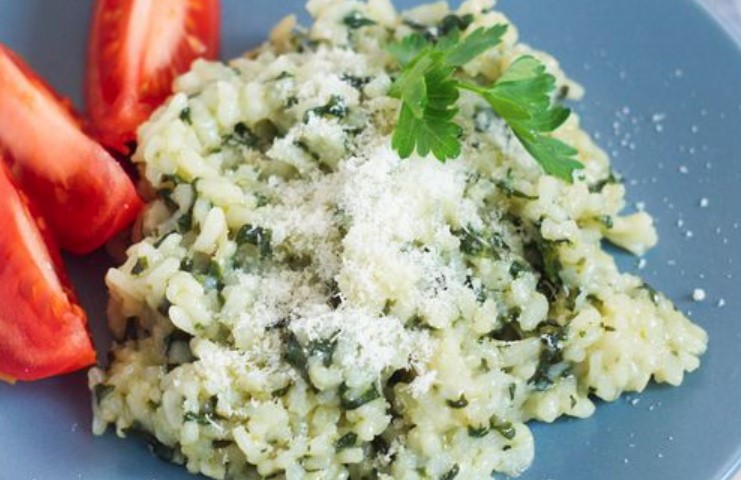 Rice with spinach and cheese will make an excellent "company" for salads of juicy vegetables, perfectly complement the main course, and will go well with vegetable cutlets or zrazy!
Cook: 45 mins
Servings: 3
Ingredients
Round grain rice – 150 g
Frozen spinach (or fresh) – 100 g
Ginger root – 10 g
Vegetable oil – 2 tbsp
Salt – 1 teaspoon
Hard cheese (or Adyghe, or feta cheese) – 30 g
Water (or vegetable broth) – 600 ml
Directions
Prepare all the ingredients you need to cook spinach and cheese rice. Spinach can be taken either fresh or frozen. If you are using fresh spinach leaves, wash, and chop them coarsely. If you cook with frozen spinach, there is no need to defrost it before cooking. It is better to take round grain rice. Peel the ginger root and grate on a fine grater, you need 1 teaspoon.
Wash the rice thoroughly and fold it onto a strainer, let the water drain.
Heat vegetable oil in a skillet. Add the grated ginger to the pan and heat for 30 seconds.
Put the rice in a skillet and fry it with ginger over medium heat for 2-3 minutes. The rice grains should be translucent.
Add spinach to the rice.

Boil water (or vegetable broth). Pour the hot liquid (about 200 ml) over the rice, add salt. While stirring, cook the rice over the heat slightly less than medium. There should be no strong bubbling.
Stir the rice and add the hot liquid in 100-120 ml portions as it partially evaporates and partially absorbs.
Cook until rice is completely soft. After about 20 minutes, the rice should be ready. Remove the pan with the cooked rice from the stove, cover, and let stand for 10 minutes.

Each serving of rice with spinach should be supplemented with grated cheese of your choice (I took Parmesan).
Enjoy your meal!
Also Like
Comments for "Rice with Spinach and Cheese"