Russian Traditions Salad with Red Fish and Tomatoes
by Editorial Staff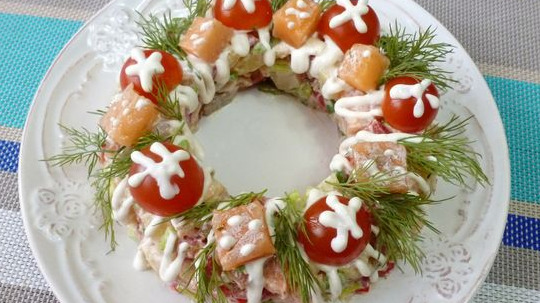 The salad with red fish and tomatoes turns out to be very tasty, hearty, beautiful, and perfect for a holiday. If you decorate the salad like New Year's, then it will perfectly replace Olivier and decorate the table.
Ingredients
Lightly salted trout (or other red fish) – 200 g
Boiled potatoes – 3 pcs.
Tomatoes – 3 pcs.
Green onions – 1 small bunch
Sour cream – 120 g
Mustard – 1 teaspoon
Salt to taste
Ground black pepper – to taste
Directions
For salad dressing, mix sour cream and mustard, add a little salt.
Stir the sour cream dressing thoroughly until smooth.
Cut the tomatoes in half, remove the seeds and juice, so that later the salad does not become watery.
Cut the potatoes into small cubes.
Cut the tomatoes in the same way as the potatoes.
Cut lightly salted trout (or other red fish) in the same way as vegetables.

Finely chop the green onion.
Set aside some of the dressing and fish for decoration. Then mix all the ingredients in a salad bowl and season with the prepared sour cream dressing. Add salt and pepper to taste.

The salad is festive, which means that it needs to be decorated. To decorate the salad, you will also need cherry tomatoes and dill. Cut the tomatoes in half, cut the twigs from the dill. 2-3 st. Put spoons of sour cream dressing in the corner of the bag. Then you will need to cut off the very tip of the bag to squeeze out thin strips of dressing. You can also use a pastry bag.
Let's make the salad in the form of a wreath. Put a glass in the middle of the plate and spread the fish salad around it. Tighten slightly with a spoon.
Pull out the glass carefully. Squeeze out thin strips of sour cream dressing on top of the salad.
Arrange cherry tomato halves, dill sprigs, and fish cubes.
Enjoy your meal!
Also Like
Comments for "Russian Traditions Salad with Red Fish and Tomatoes"