Rustic Bread
by Editorial Staff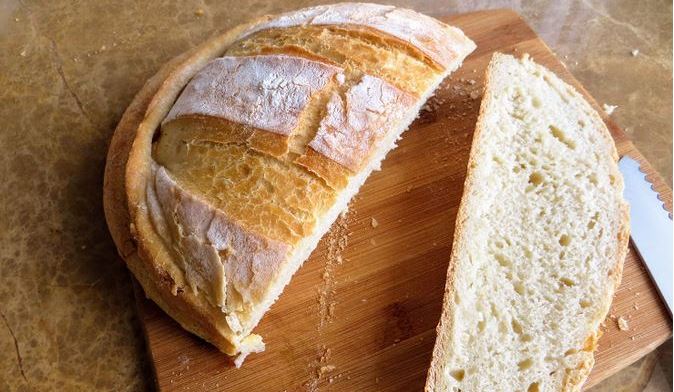 We often bake, try different recipes and methods. But we haven't baked like that yet! The crust of the bread is golden, thin, and crispy! And the taste is like a rustic bread: real, alive! Try it, it's very simple!
Ingredients
Wheat flour – 500 g
Warm water – 350 ml
Vegetable oil – 3-4 tbsp
Dry yeast – 1 teaspoon without a slide
Sugar – 1 tbsp
Salt – 0.5 teaspoon
Directions
The products are the simplest, and their minimum. Let's get everything ready and start.
First of all, we check and activate the yeast. We make a quick dough. Pour warm water into the flour (into the depression), add sugar and yeast. Stir lightly, adding a little flour, and let the dough stand for about 20 minutes (you can cover with a towel or plastic wrap).
Then add vegetable oil and salt to the dough. We knead the dough. The dough will be very sticky at first – do not add flour, do not hammer the dough. To make it easier to knead it, lightly grease the countertop with oil (0.5 tablespoons). A few minutes of kneading – and you get an excellent dough. Let the yeast dough stand under the film in a warm place for about an hour.
The dough rises perfectly. Lightly dust the table with flour and knead the dough with several folding movements. Leave for 10 minutes. Than again knead the dough in the same way. You can add a little flour if the dough sticks, but do not stir it in.

We form a ball out of the dough and put it on a baking sheet, greased with oil and sprinkled with flour. Sprinkle the dough with flour on top, cover with a linen towel and let it rise again at a temperature of 22-25 degrees for 20 minutes.
Make a couple of cuts on the top of the bread. Now comes the fun part of this recipe. Cover the dough on a baking sheet with a glass baking dish (my dish is 20 cm in diameter). We send the bread under the mold to the cold (!) Oven, turn it on, set the temperature to 200 degrees, and bake country bread in the oven for 40 minutes.

Cool the finished homemade bread on the wire rack. My bread even lifted the shape, and it turned out to be a bread-cap. 🙂 The aroma from the oven creates additional comfort at home! I love homemade bread and I recommend it to you!
Also Like
Comments for "Rustic Bread"