Salad with Celery, Carrots, Apple and Cheese
by Editorial Staff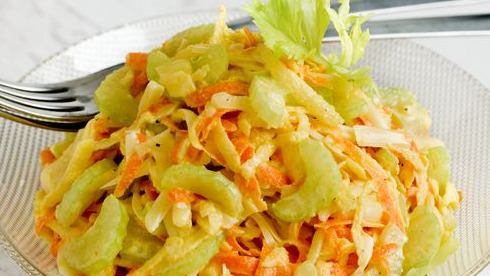 Carrot, apple, and cheese combined with juicy crispy celery, seasoned with mayonnaise and flavored with garlic – such an original and undoubtedly healthy salad will surprise anyone! It is no secret that celery has a rather bright taste and aroma, as they say, for an amateur. He is very specific. And in this salad, celery is so well disguised that it is difficult for even the most avid fussy to recognize it. So try and surprise your loved ones!
Servings: 3
Ingredients
Celery stalk – 150 g
Carrots – 150 g
Apple – 150 g
Hard cheese – 150 g
Mayonnaise – 80 g
Garlic – 1 clove
Salt to taste
Ground black pepper – to taste
Directions
Peel the carrots and grate on a coarse grater.
Grate hard cheese on a coarse grater.
Wash the celery stalks, dry, and cut into thin slices.
In a bowl, combine carrots, cheese, and celery.
Now prepare the dressing. To do this, pass a clove of garlic through a press. Add garlic, salt, and black pepper to mayonnaise.
Stir. The salad dressing is ready.
To avoid darkening, add the apple last to the salad. Peel it, grate the pulp on a coarse grater.
Add the apple to the previously combined salad ingredients.
Season the salad with the mayonnaise-garlic dressing.
Stir.
Enjoy your meal!
Also Like
Comments for "Salad with Celery, Carrots, Apple and Cheese"