Spaghetti with Chili and Garlic
by Editorial Staff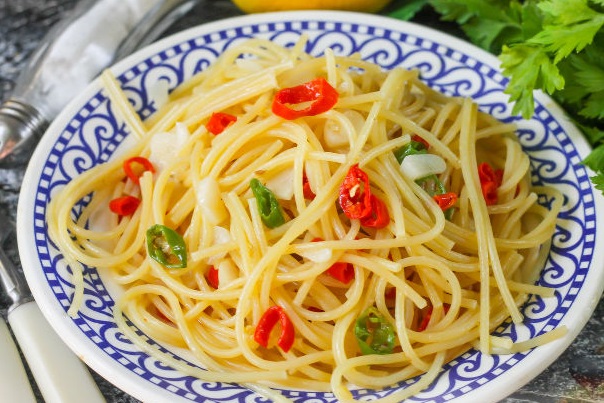 If you are a gourmet and a lover of spicy sensations, then be sure to try the spaghetti with chili and garlic – this dish will take your breath away! True, it is necessary to extinguish it not with cold water, but with milk or cream.
Directions
Spaghetti – 100 g
Chili pepper – 2 pcs.
Garlic – 3-4 cloves
Vegetable oil – 30 ml
Salt – 2 pinches
Lemon juice – 0.5 teaspoon
Lemon zest – to taste (a little)
Greens – for decoration
Directions
Prepare the ingredients for making the chili and garlic spaghetti. It is best to use durum wheat spaghetti.

How to make garlic chili pasta:
Pour hot water into a saucepan or cauldron, add salt to it and bring to a boil on the stove. Pour the spaghetti into the water (you can break them in half) and cook over medium heat for about 5-7 minutes.
At this time, remove the seeds from the chili pepper (the seeds are bitter) and cut them into thin strips. Peel the garlic, rinse and cut into slices. Pour vegetable oil into the pan and heat the container on the stove. Pour garlic and chili into it, fry for about 1-2 minutes.
Using a slotted spoon, transfer the boiled spaghetti from the saucepan to the pan and stir. Simmer for about 1-2 minutes.
Pour in the lemon juice and gently rub some lemon peel into the bowl directly over the spaghetti. Stir everything again and simmer for about 1-2 minutes.

Place the chili and garlic pasta on plates and garnish with fresh herbs. Be sure to serve not with cold water, as it burns the taste of pepper even more, but with cold milk or cream.
Also Like
Comments for "Spaghetti with Chili and Garlic"