Stew with Potatoes and Rice (in a Cauldron)
by Editorial Staff
The dish is strange or not quite ordinary … Vegetable stew with potatoes and rice. No matter how it sounds, the combination of potatoes and rice is very, very much 🙂 It's up to you, of course, to decide, but for now, I'll tell you how to make this dish.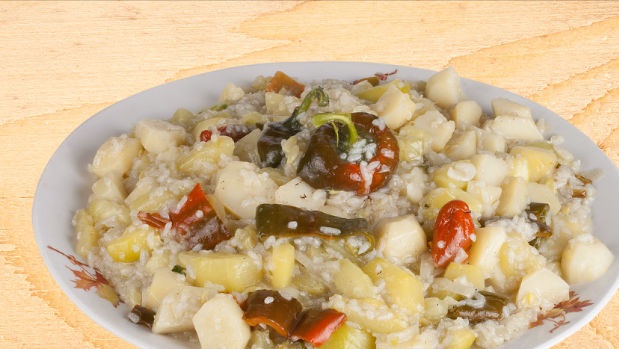 Cook: 1 hour 20 mins
Ingredients
Bulgarian sweet pepper
Zucchini
Potato
Bulb onions
Rice
Water or broth
Sunflower oil
Salt Pepper
Directions
I don't write the number of products, everything is at your discretion and tastes. When we think of preparing this dish, the first thing to do is soak the rice. I soaked it for two hours while going into the forest to pick mushrooms. It's time to cook.
We make a fire, put a cauldron, and let it warm up …
During this time, we will prepare the products. Cut the onion into half rings, the potatoes – in large pieces, the pepper – in large pieces. Chop the zucchini coarsely.
The cauldron of oil has heated up. We send the onion there first and fry until soft over high heat.
Next, we send the potatoes and bring them to half-readiness.

We throw in the zucchini, pepper, and immediately – soaked rice.

Pour in a glass of water or broth and cover with a lid. Yes, do not forget to make the fire medium. We have 25-30 minutes of time, so you can do other things or indulge in a bastard next to the cauldron, after picking a ripe apple.
Remove the lid from time to time and mix. Salt. Pepper. You can add your favorite spice. The scent makes the pets urge you to cook. Be prepared for the fact that the family will come running with spoons, trying in every possible way to try the dish.
Everything is ready. We spread it on a large dish. You can decorate with greenery … or you can not decorate.
Good appetite!
Also Like
Comments for "Stew with Potatoes and Rice (in a Cauldron)"