Chakhokhbili in a Cauldron (at the Stake)
by Editorial Staff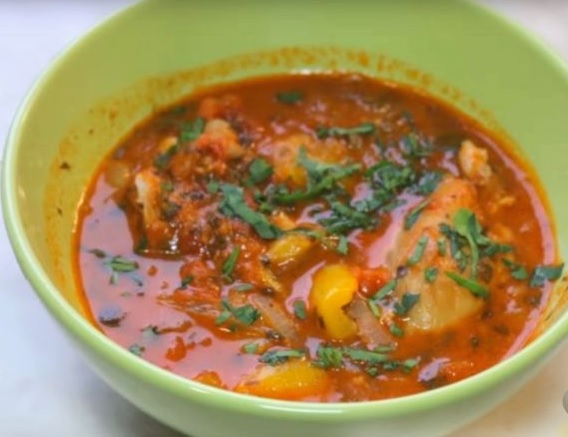 The recipe for a very tasty Georgian chicken dish, the preparation of which will not take you much time and will not present any problems! I recommend the authentic method of cooking chakhokhbili in a cauldron over a fire. Although, with a strong desire, you can repeat this recipe at home.
Ingredients
Chicken thighs – 1 kg
Tomatoes – 1 kg
Onions – 500 g
Bulgarian pepper – 1 pc.
Garlic – 5 cloves
Cilantro – 1 bunch
Fresh basil – 1 bunch
Fresh parsley – 1 bunch
Adjika – 1 teaspoon. with a slide (to taste)
Tomato paste – 2 tbsp
Hot chili pepper, fresh – 1-2 pcs. (taste)
Coriander to taste
Hmeli-suneli – to taste
Salt to taste
Vegetable oil – for frying
Directions
Skin the chicken thighs and trim off the excess fat.
Peel the onion and cut into half rings.
Peel and chop the bell pepper.
Remove the skin from the tomatoes. To do this, cut the tomatoes crosswise from the bottom side and lower them in boiling water for one minute. Then remove the tomatoes from the boiling water and peel them.
Chop the peeled tomatoes at random. They should not be heavily crushed.
Peel the garlic and cut into slices.
Finely chop the greens (without stems).
Pour a little vegetable oil into the cauldron and heat it up properly. Then lower the chicken into the cauldron and fry it on all sides for 10 minutes.
Then add the onion. Spread it evenly over the chicken thighs, cover the cauldron and let the chicken and onion simmer for 5 minutes cooked food until the onion becomes transparent.

Next, send tomatoes, bell peppers, herbs, garlic, adjika, tomato paste, coriander, suneli hops, and salt to the cauldron. Stir in the chicken with vegetables and herbs. Add chili peppers.
Cover and leave the chakhokhbili in a cauldron to simmer for 40 minutes.

Then open the cauldron and extract the chili pepper from the chakhokhbili. (The dish turned out to be quite spicy, so you can either reduce the amount of chili or not put adjika in the chakhokhbili.
Enjoy your meal!
Also Like
Comments for "Chakhokhbili in a Cauldron (at the Stake)"