My Chakhokhbili
by Editorial Staff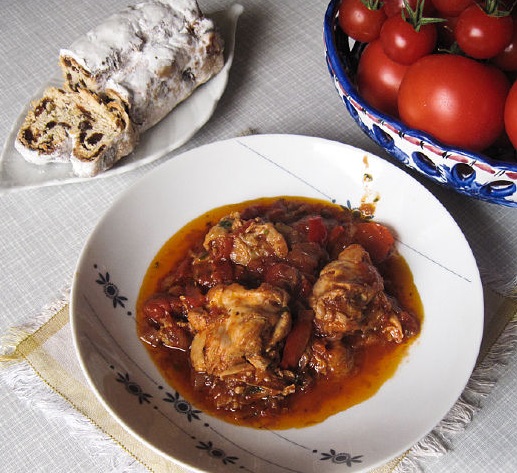 What is Chakhokhbili? This is a stewed chicken with onions and peppers, one of the most famous dishes of Georgian cuisine. I don't know why, but this simple, delicious dish was very much loved by us. Without pretending to anything, not trying to pass off this dish as authentic Georgian cuisine, I will tell you how I always made chakhokhbili from chicken.
Ingredients
Chicken or legs – about 1 kg
Vegetable oil for frying
Medium-sized onions – 3 pcs.
Tomato paste – 2-3 tbsp
Medium tomatoes – 4-5 pcs.
Large sweet pepper – 1 pc.
Hot pepper, fresh, small – 1 pc. (taste)
Hops-suneli – ½ teaspoon
Coriander – ½ teaspoon
Adjika – 1 teaspoon
Garlic – 2 cloves
Parsley greens – 1 bunch
Cilantro greens – 1 bunch
Directions
How to cook chicken chakhokhbili:
I cut the chicken into small, convenient pieces, and I also divide the legs into pieces.
I pour a little vegetable oil into the cauldron and fry each piece on both sides. I push it aside. And I lay out another batch of chicken. The process is rather slow. And so on to the last piece. I close the lid and simmer for 15-20 minutes no more.
While the chicken is stewing, cut the tomatoes into small pieces and set them aside.
Finely chop the onions and fry in vegetable oil, but not like dumplings, but until pink, no more. And after 20 minutes. immediately pour into a cauldron, mix.
Put tomato paste on the freed pan, add fire and fry for a short time, a minute or two.
Put the tomatoes at once, mix with tomato paste, and, stirring for a minute or two, fry. Set aside, and after 20 minutes add the tomatoes to the chicken. Mix again, and, closing the lid, leave to simmer.

We cut our peppers and peel the garlic. If you want hot – add hot pepper. Chopped? Pepper – in a saucepan, garlic – in a garlic press. I do not like boiled peppers, it should crunch a little, here you can only experimentally, in the form of a test, to understand when it will be ready.
Put pepper – add adjika. Close the lid again and note: the chicken boils quickly enough. I don't think I need to extinguish it for a long time, 20 minutes is enough for me.
Open the lid again and put in the suneli hops, coriander, salt, squeeze out the garlic and add the chopped greens, let it boil.
I turn off the oven, cover it with towels, but do not remove it from the burner. The chakhokhbili cools down slowly and the stored heat will help bring everything into its proper form and taste without spending energy. After 15-20 minutes, everything was already infused, settled, and you can serve.
Enjoy your meal!
Also Like
Comments for "My Chakhokhbili"