Wholemeal Bread
by Editorial Staff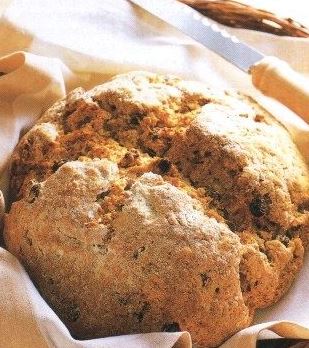 Wholemeal bread is very useful because it is made not with yeast, but with sour milk. Raisins and caraway are also added to the dough. Pure health!
Cook: 1 hour
Ingredients
Wheat flour – 1 1/2 cups
Coarse flour – 1 1/2 cups
Oatmeal – 1 cup
Sugar – 1/4 cup
Baking powder – 1 tbsp
Salt – 1 1/2 teaspoon
Baking soda – 1 teaspoon
Margarine or butter – 6 tbsp
Golden Raisins – 1 1/2 cups
Caraway seeds – 2 teaspoon
Sour milk or buttermilk – 1 1/2 cups
Directions
Preheat the oven to 180 degrees. In a large bowl, combine the first 7 ingredients. Add chopped margarine, mix well until smooth.
Add cumin and raisins. Add sour milk. Knead to a homogeneous dough. Grease a baking sheet with oil.
Knead a not very elastic dough with your hands on a floured board. Form a ball. Put on a baking sheet.
Sprinkle lightly with flour. In the center of the ball, make a cross-to-cross incision. Bake wholemeal bread for an hour. Cool on a wire rack.
Also Like
Comments for "Wholemeal Bread"