Yeast Cake "Hot dog" with Sausages and Cheese
by Editorial Staff
As a mom of two school-age children, every day I puzzle over what to give the kids to school with me for a snack. This cheese and sausage pie is an option that suits both the kids and me. The children received their hot dogs, and I was confident that they were made from quality products, because I made this hot dog yeast pie myself.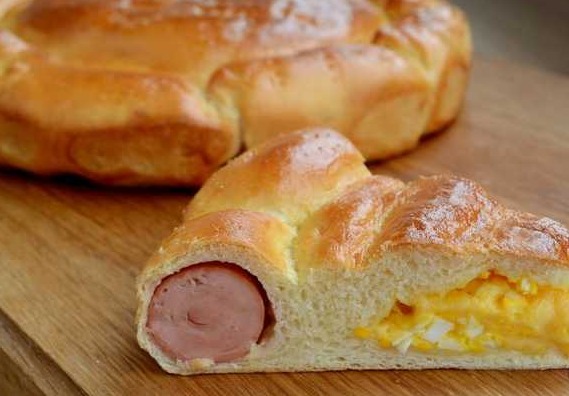 Servings: 6
Cook: 2 hours (your 30 minutes)
Ingredients
For the dough:
Kefir – 150 ml
Vegetable oil – 2 tbsp
Fresh yeast – 15 g
Wheat flour – 300 g
Salt – 1 teaspoon
Sugar – 1 teaspoon
For filling:
Sausages – 3-4 pcs.
Hard cheese – 150 g
Eggs – 2 pcs.
To grease the cake:
Directions
Prepare the ingredients for the cheese pie and sausage yeast dough. Yeast can be taken both dry and fresh.

Dissolve fresh yeast in warm kefir, add a teaspoon of sugar. Leave the dough in a warm place.
After 10-15 minutes, the dough will take on bubbles and increase in volume. This means that the yeast is good and you can work with it further.
Add salt and vegetable oil. Gradually adding the sifted flour, begin kneading the dough.
When the dough begins to peel off the sides of the bowl, transfer it to a floured tabletop. Knead the dough further while adding flour.
The dough will be smooth and pliable. About 270 g of flour went into my dough. Cover the bowl with plastic wrap and place in a warm place for 40-50 minutes.
Until then, prepare the pie filling. Boil eggs hard-boiled (9-10 minutes after boiling water), peel the sausages from the film.
Grate boiled eggs and cheese on a coarse grater in a deep bowl.
The dough has more than tripled – you can cook further. Crumple the dough, releasing air from it.
Divide the dough into two parts – one third and two thirds. Roll both pieces into round flat cakes 0.5-0.6 cm thick. Place the cheese and egg filling in the center of the larger flatbread.
Cover the filling with a smaller flatbread, pinch the edges. Cut the bottom of the dough into segments. Cut the sausages into small pieces. Place the sausage slices on the outer edge of each segment and fold towards the center.

Cut off excess dough petals.
Transfer the cake to a baking dish or baking sheet, leave in a warm place to rise for another 20 minutes.
Pin the center with a fork to let air out. Brush the surface with whipped egg white for a shiny finish.
Bake a pie with cheese and sausages in an oven preheated to 180 degrees for 30-35 minutes.

Hot dog yeast pie with sausages and cheese is best served hot, because then the cheese lasts.
It's delicious and simple enough. Try it and see!
Also Like
Comments for "Yeast Cake "Hot dog" with Sausages and Cheese"