Yeast Cake with Sugar Crumbs and Cream
by Editorial Staff
Recipe for yeast cake with sugar crumbs and butter impregnation. The taste of the pie is very delicate, creamy milk. Try it!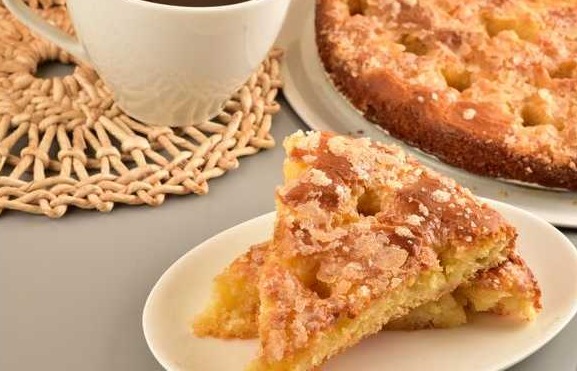 Servings: 8
Cook: 2 hours
Ingredients
For the dough:
Flour – 250 g
Eggs – 2 pcs.
Milk – 100 ml
Butter – 100 g
Dry yeast – 1.5 teaspoon
Sugar – 1 teaspoon
Vanillin – 1 pinch
Salt – 1 pinch
Vegetable oil – 1 tbsp
For the "crumb":
Cold butter – 50 g
Sugar – 130 g
For impregnation:
Directions
Milk must be heated to 40 degrees.
Eggs and butter should be at room temperature.
Add yeast and sugar to warm milk, mix and leave for 5-10 minutes.
Send eggs, butter, vanilla sugar and salt to the blender bowl.

Beat.
Add yeast mixture.
Add flour.
Mix well. The dough should be soft and sticky.
Cover the dough with cling film.
Leave the dough for 30-40 minutes in a warm place.
Grease a baking dish with vegetable oil, put the dough there and distribute evenly over the bottom. Leave for another half hour.

Turn on the oven to heat up to 180 degrees.
Dip your finger in vegetable oil and make indentations in the dough.
Grind cold butter with sugar and refrigerate.
Spread the sugar crumbs over the entire surface of the dough. Bake the yeast cake in the oven for 25-30 minutes.
Remove the pie from the oven, pour in the cream and bake for another 5 minutes.

Cool the finished pie a little.
Bon Appetit!
Also Like
Comments for "Yeast Cake with Sugar Crumbs and Cream"