Airy Cake "Cloud Bread"
by Editorial Staff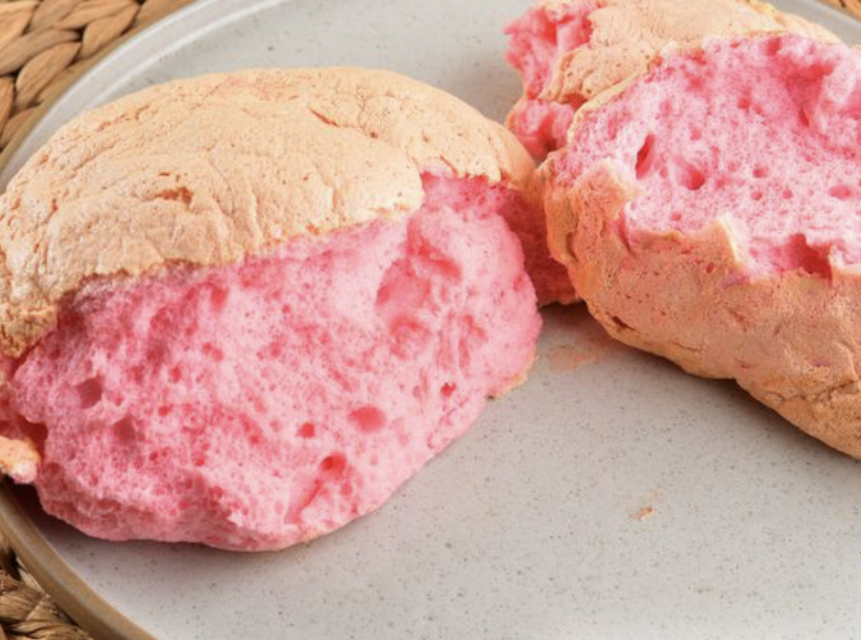 An unusual pastry made from whipped egg whites, sugar and starch – airy "cloud bread". The delicacy got such an original name because of the extremely light and porous structure of the "crumb". This delicate "cloud" tastes like a cross between marshmallows and cotton candy. Definitely worth a try!
Ingredients
Egg whites – 3 pcs.
Sugar – 30 g
Corn starch – 10 g
Vanillin – 1 pinch
Salt – 1 pinch
Liquid food coloring (optional) – 2-3 drops
Directions
We prepare products according to the list.
You can replace food coloring with a few drops of vegetable or fruit juice, or not use it at all.
If desired, cornstarch can be replaced with potato starch, but it should be borne in mind that the cake may turn out to be less fluffy. The cornstarch creates a thin crust that prevents the egg whites from settling after baking.
"Cloud bread" is prepared very simply and quickly, so it is best to turn on the oven beforehand to warm up to 150 degrees.
Egg whites are best placed in a deep bowl and chilled in the refrigerator beforehand. In order for the egg whites to be guaranteed to be whipped, both the bowl and the egg whites themselves must be well chilled, and the whisk of the mixer absolutely clean and dry.
Add a pinch of salt to the egg whites and beat on a low mixer speed for about 3 minutes, until fluffy.
Add sugar in parts and gradually increase the speed of the mixer, beat the whites for about 5 minutes, until stable peaks and a smooth fluffy mass.
Add food coloring if desired.

We mix. Add starch and vanillin.
Beat for about 1 minute more, until smooth.
Cover the baking sheet with parchment for baking. We spread the protein mass on a baking sheet and give it the shape of a hemisphere.
We send it to the oven, preheated to 150 degrees, for about 30 minutes. You can turn on the convection mode.
At first, when baking, the mass will begin to increase in size, but then it will settle down a little.
After the time has elapsed, carefully remove the "cloud bread" from the oven, cool slightly and serve.

Such "cloudy bread" should not be cut, only broken – it will make serving an unusual dish much more effective!
Enjoy your meal!
Also Like
Comments for "Airy Cake "Cloud Bread""