Almond Pudding with Plums
by Editorial Staff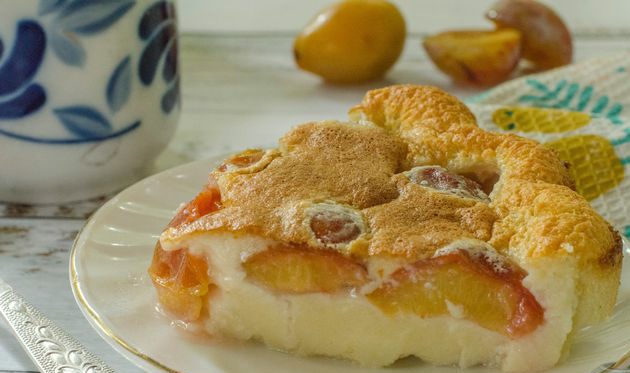 Oven almond pudding with plums is a delicate delicacy with a rich aroma and a bright summer taste. The pudding pie according to this recipe beckons with ruddy edges and its juiciness – just an ideal option for soulful tea parties.
Cook: 1 hour
Servings: 6
Ingredients
Plums – 400 g
Cream 33% – 250 ml
Milk 3.2% – 100 ml
Eggs – 3 pcs.
Butter – 10-15 g + for greasing the mold
Almond flour – 100 g
Corn starch – 25 g
Sugar – 100 g + for sprinkling the mold
Thyme – 5 g
Directions
Combine milk, cream and thyme in a saucepan. We put the saucepan on heating and bring to a boil. Turn off the heating. We infuse the creamy milk mixture for 30 minutes. We filter to get rid of the thyme pieces.

Cut the plums in half and free them from the seeds. Preheat the oven to 180 degrees. Combine eggs and sugar in a bowl and beat until sugar dissolves.
Mix almond flour with starch. Continuing to beat eggs with sugar, add flour with starch into them in portions. Pour a mixture of cream and milk into the resulting mass. We mix.
Fill the plums with the resulting mixture. For 30-35 minutes, we send the cake to bake at 180 degrees.

Let the finished pie cool for 15 minutes. The almond plum pudding is ready.
Enjoy your tea!
Also Like
Comments for "Almond Pudding with Plums"