Apple Pie
by Editorial Staff
Everything is prepared very simply, and a few nuances allow the dough to remain dry, crisp and just crumble in your mouth! To your attention "the king of autumn desserts" – apple pie! Be sure to repeat this recipe next weekend, you won't regret it!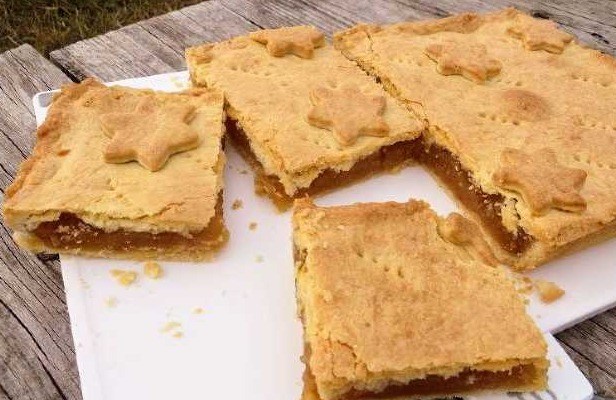 Ingredients
For the dough:
Butter – 180 g
Yolk – 1 pc.
Flour – 320 g
Powdered sugar – 40 g
Vanilla sugar – 1 teaspoon
Water (cold) – 2-3 tbsp
Salt – 1 pinch
For filling:
Apples – 6-8 pcs.
Sugar – 1 glass
Butter – 20 g
Bread crumbs – 2 tbsp
Ground cinnamon (optional) – 1 teaspoon
Directions
Grind flour, icing sugar, salt, vanilla sugar and butter into crumbs. Stir the yolk well with water.
Slowly pouring the liquid part into the dry mixture, collect the dough into a ball. (It may take a little less or a little more water.)
Put the shortbread dough for the pie in the refrigerator for at least 30 minutes.
During this time, we will have time to prepare the filling.
Wash the apples well and peel them. Rub on a coarse grater.
Lightly caramelize sugar with a piece of butter in a frying pan. (By the way, you can adjust the amount of sugar depending on the sweetness of your apples. If the apples are sour, you will need 1 glass of sugar. If the apples are sweet, less.)
Then add grated apples and evaporate excess moisture without fanaticism. Add cinnamon if desired. Cool the finished filling well.
Divide the pie dough into two parts. We remove one for now, you can even put it in the refrigerator, and roll the second into a thin layer (2-3 mm), taking into account the sides and put it in a mold.
An important point! We pierce the dough in the shape of a fork – excess moisture will evaporate during baking. And also sprinkle the dough with breadcrumbs – they will absorb excess juice from the filling. The dough will remain crisp without getting wet.

We spread all the cooled apple filling, level it.
Roll out the second part of the dough into a layer, cover the filling. We connect the edges well, and carefully cut off the excess dough.

We also pierce the top with a fork. Cut out the decoration from the remains of the dough (this is optional).

We bake an apple pie from shortcrust pastry in an oven preheated to 200-220 degrees for 20 minutes.
A very beautiful and delicious apple pie turned out! Crispy dough and a sea of ​​filling!
Bon Appetit!
Also Like
Comments for "Apple Pie"