Closed Apple Pie
by Editorial Staff
Baking with apples is always simple, tasty, inexpensive. It is such a delicious and uncomplicated tea cake that I want to offer you to bake. Crispy dough and fragrant juicy filling. What else is needed?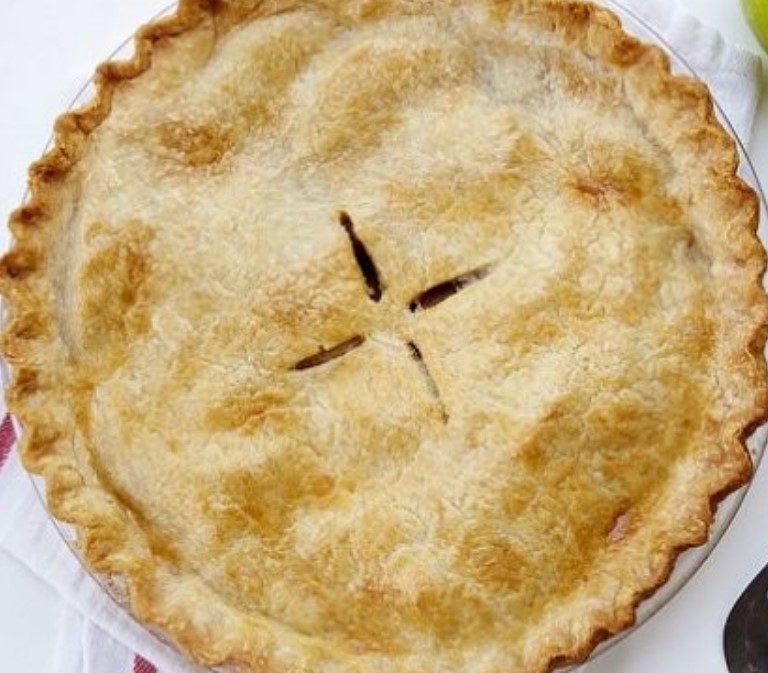 Cook: 1 hour 30 mins
Servings: 6-8
Ingredients
Flour – 2 Glasses
Butter – 175 Grams
Salt – 1 Teaspoon
Water – 5-7 Art. spoons (cold)
Apples – 6 Pieces
Sugar – 3/4 Cup
Starch or flour – 2 tbsp
Cinnamon – 3/4 Teaspoons
Salt – 1/4 Teaspoon
Nutmeg – 1/6 Teaspoon
Lemon juice – 2 Teaspoons
Egg – 1 Piece
Directions
In a deep bowl, combine the sifted flour, salt, cold butter and mash with a fork until smooth. Pour in ice water and knead to a homogeneous dough.
Divide the finished dough in half, roll into balls and wrap in plastic wrap. Put in the refrigerator for 35-45 minutes or in the freezer for 15.

Then roll out both layers of dough on a floured surface.
To prepare the filling, combine the sliced ​​apples, sugar, spices. Add lemon juice, flour, or starch.
Stir gently. If you want, you can add a handful of raisins or dried cranberries to the filling, for example.
Place one layer of dough in an ovenproof dish. Spread the filling on top.
Place the second layer of dough on top. Gently seal the edges.
Make small cuts in the center. Brush with a beaten egg and send to the oven preheated to 180 degrees. Bake for about an hour until golden brown.
I recommend serving the pie 1.5-2 hours after it's done.
Bon Appetit!
Also Like
Comments for "Closed Apple Pie"