Apples with Jam Baked under Meringue
by Editorial Staff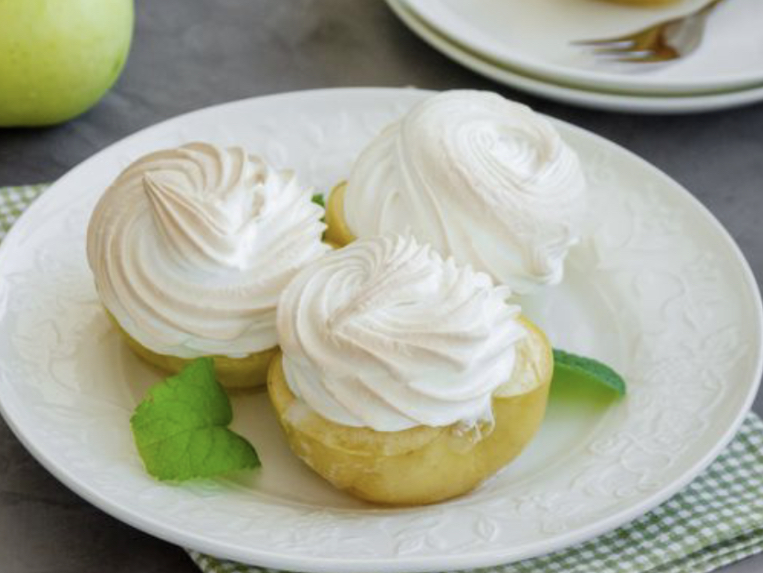 Lovers of baked apples will appreciate this recipe. Apples with jam, baked under meringues, is a delicious and elegant dessert that is very easy to prepare.
Ingredients
Apples – 280 g (2 pcs.)
Jam – 4 teaspoon
Egg whites – 60 g (from 2 medium sized eggs)
Sugar – 100 g
Directions
Prepare your ingredients.
I used apricot jam, but another will do.
Turn on the oven to heat up to 180 degrees.

Cut the apples in half. Remove the core.
Cover the baking sheet or baking sheet (I have a frying pan with a removable handle) with baking paper. Lay out the apple halves.
Fill each half of the apples with jam.
Send the apples to an oven preheated to 180 degrees for 15-20 minutes.
Roasting time will depend on the apple variety. The apples should be soft, but keep their shape.
Prepare the meringue.
Pour the egg whites into a clean, dry bowl.
Use a mixer to beat them until soft foam first. While whisking, add all the sugar in small portions and continue whisking until firm peaks.
Transfer the protein mass to a pastry bag with a wide, curly nozzle.
Put the protein mass on the baked apples.

Send the apples and meringues back to the oven and bake them for about 7-10 minutes, until the meringue is lightly browned.
Apples with jam baked under meringues are ready!
Enjoy your meal!
Also Like
Comments for "Apples with Jam Baked under Meringue"