Baked Feta "Saganaki"
by Editorial Staff
A traditional Greek appetizer is feta cheese baked in the oven with vegetables and spices. It is very simple, healthy, satisfying and tasty, like everything that the Greeks cook!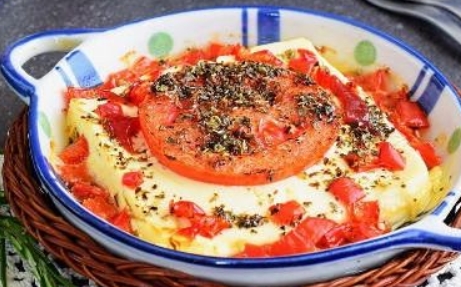 Cook: 20 mins
Servings: 1
Ingredients
Feta cheese – 100 g
Tomato – 20 g
Olive oil – 2 teaspoon
Bulgarian pepper – 20 g
Dried oregano – 1 pinch
Directions
Prepare feta in portioned molds, the molds must be heat-resistant. Pour 1 teaspoon of olive oil into each mold. Spread out a plate of feta cheese.

Cut the bell pepper into small cubes and sprinkle with cheese.

In some taverns, tomatoes are also chopped like peppers, and in some, they put a round of tomato on top of the cheese.
Sprinkle dried oregano over the top of the cheese.
And pour a little more olive oil on top of the cheese. We send the form with cheese to an oven preheated to 180 degrees for 15 minutes.
Feta "Saganaki" with tomatoes and pepper is ready. Delicate, with a buttery structure, aromatic and spicy … You will definitely like this hot cheese snack!
Bon Appetit!
Also Like
Comments for "Baked Feta "Saganaki""