Braised Pork with Smoked Sausages
by Editorial Staff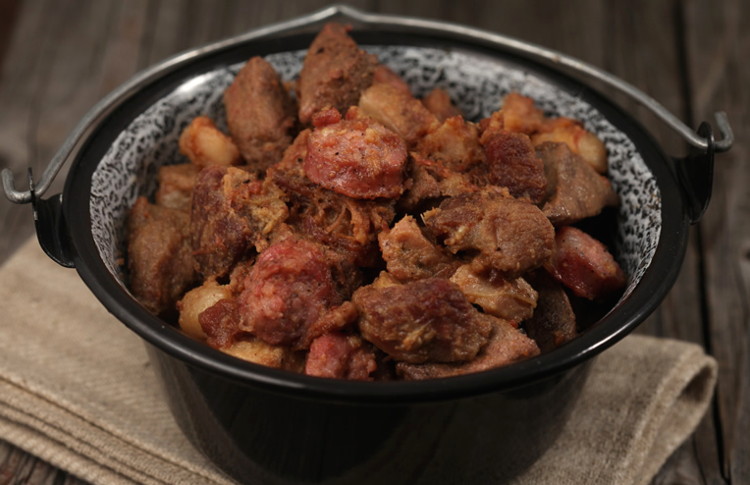 A very aromatic stew of pork, smoked sausages, onions, garlic, thyme and red wine.
Cook: 80
Servings: 8
Ingredients
1 kg. pork (ham)
1 kg. pork (neck)
1 kg. sausages (smoked)
2 pcs. onions (white and red)
4 cloves garlic
200 ml. Red wine)
2 tablespoon lard (melted pork)
1 tablespoon paprika
1 teaspoon thyme (dried)
1/2 teaspoon pepper (ground)
salt to taste
Directions
Chop the onion finely, chop the pork leg, the neck and smoked sausages into pieces. Melt lard in a large saucepan put the onion and fry until golden brown. Add the prepared pieces of pork leg and fry until the pieces lighten, then lay out the neck and fry for 2-3 minutes. Add pieces of smoked sausages, garlic passed through a press and fry for another 2-3 minutes.

Add tomato paste, thyme, paprika, ground pepper, pour in red wine and simmer aromatic pork for 10-15 minutes, covered over low heat. After 10-15 minutes, pour in water (1 glass), add salt (3 pinches), cover and simmer pork with smoked sausages for 50-55 minutes until the meat becomes tender. We try for salt.

We serve delicious pork stew with your favourite side dish and vegetable salad. Enjoy your meal!!!
Also Like
Comments for "Braised Pork with Smoked Sausages"