Burgers with Chicken Fillet, Ham and Cheese
by Editorial Staff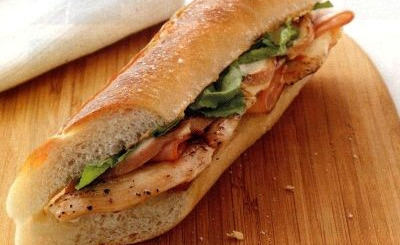 You can make such a closed baguette sandwich for breakfast or take the chicken burgers with you to work and eat at lunch.
Cook: 25 minutes
Servings: 4
Ingredients
Chicken fillet (halves) – 4 pcs.
Extra virgin olive oil – 1.5 tbsp
Salt to taste
Ground black pepper – to taste
Ham – 4 slices
Smoked mozzarella – 8 slices
Baguette – 1 pc.
Butter (softened) – 3 tbsp
Dijon mustard – 3 tbsp
Arugula or watercress – 1 bunch
How to make chicken, ham, and cheese burgers:
Directions
Switch on the oven with grill function to preheat to high temperature. Cover a baking sheet with foil and put fillets on it, beaten to a thickness of 0.5 cm. Grease chicken chops with 1 tablespoon of olive oil, sprinkle with salt and pepper. Place the baking sheet in a preheated oven and fry the fillets for about 3-4 minutes. Then turn the chops over and fry for another 3-4 minutes
Remove the baking sheet from the oven, put one slice of ham and 2 slices of mozzarella on each chicken chop. Place the baking sheet in the oven for a couple more minutes to melt the cheese. Sprinkle with salt and pepper and drizzle with 1 tablespoon of olive oil.
Cut the baguette into 4 parts and make a longitudinal cut in each part. Grease the baguette slices with butter, and then with mustard. In a separate bowl, combine the herbs with 1/2 tablespoon olive oil, salt, and pepper. Fill baguettes with herbs and chicken chops with ham and cheese. Burgers with chicken, ham, and cheese.
Enjoy your meal!
Also Like
Comments for "Burgers with Chicken Fillet, Ham and Cheese"