Chicken Burger
by Editorial Staff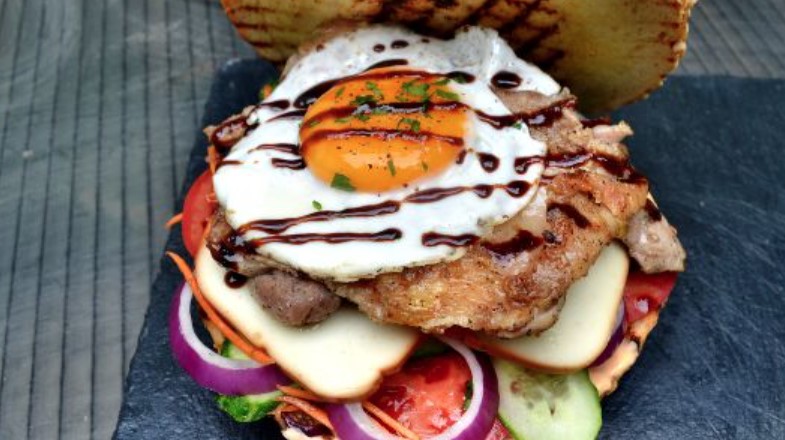 Burger with chicken, vegetables, egg.
Ingredients
Burger bun – 1 pc.
Chicken leg b / c – 130 g
Cucumber – 40 g
Tomato – 40 g
Red onion – 20 g
Red cabbage – 20 g
Carrots – 20 g
Smoked sausage cheese – 40 g
Chicken egg – 1 pc.
Mayonnaise – 25 g
Adjika – 25 g
How to make a chicken burger:
Directions
We beat the boneless ham between two bags, salt, pepper, add cumin and utskho-suneli. Fry on both sides, 5 minutes each.
Grease the buns with butter and bake in a dry frying pan.
Cut the cabbage and carrots into strips, salt, pepper, crush a clove of garlic, a little vinegar, oil, coriander, sugar. Set aside.
Mix mayonnaise with adjika, this will be our sauce for greasing the burger. In the photo, I did not grease the top bun, for an aesthetic presentation, but for home eating, it is necessary to grease.
Grease the buns, put salad, vegetables, onions, cheese, chicken, fried egg. I poured the beet caramel over the chicken burger on top, but you can add something else.
Bon Appetit!
Also Like
Comments for "Chicken Burger"