Spicy Chicken Burger in Waffles
by Editorial Staff
Great news for burger lovers – buns are not a must in a burger! They are great substitutes for crispy fluffy waffles! It turns out very tasty.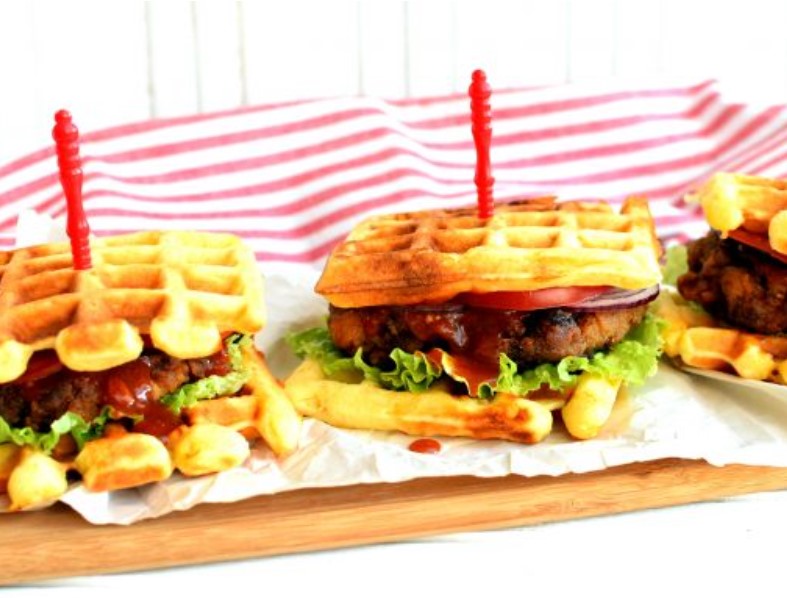 Cook: 1 hour
Servings: 4
Ingredients
Chicken Thighs – 4 Pieces
Ground paprika – 1
Spice mixture – 1 tablespoon. spoon (barbecue or mexican)
Brown sugar – 1
Lemon juice – 1 Tbsp. the spoon
Salt – 1 Teaspoon (incomplete)
Vegetable oil – 1 tablespoon. spoon (+ for frying)
Egg – 1 Piece
Corn flour – To taste (for breading)
Butter – 60 grams (for waffles)
Eggs – 2 Pieces (for waffles)
Natural yogurt – 100 Milliliters (for waffles)
Wheat flour in / grade – 1/2 Cup ((volume 250 ml) for waffles)
Corn flour – 1/2 Cup (for waffles)
Sugar – 1 Tbsp. spoon (for waffles)
Salt – 1/2 Teaspoon (for waffles)
Baking powder – 1 teaspoon (for waffles)
Grated cheese – 1 Glass (for waffles)
Tomato Sauce – To taste (optional)
Red onion – To taste (optional)
Tomatoes – To taste (optional)
Lettuce Leaves – To taste (optional)
Directions
Remove excess fat and pelvic bones from chicken thighs. Cut out the thigh bones and form an even layer of meat. Combine spices, salt, lemon juice and brown sugar. Add oil and rub the chicken meat well on all sides. Put marinate in the refrigerator – from an hour to a day.
Dip the pickled budras in an egg, beaten with salt, then bread in corn flour and sauté in butter until golden brown. Check the readiness with a puncture – the juice should be absolutely transparent. Cook the chicken in the oven if necessary. Keep warm.
For waffles, beat the softened butter, sugar and salt until fluffy. Add eggs one at a time, then pour in the yogurt.
Pour in the mixture of corn and wheat flour, sifted with baking powder, mix until smooth, not too zealous. Add the grated cheese and stir into the dough.

Bake thick waffles with a waffle iron. Place on a wire rack to avoid getting wet.
Ideally, chicken burgers, lettuce, vegetables and sauce are immediately added to the hot waffles.
And right there they serve – hot, crispy, juicy chicken burgers in waffles. Delicious!
Bon appetit!
Also Like
Comments for "Spicy Chicken Burger in Waffles"