Cabbage Casserole with Bell Pepper (in a Pan)
by Editorial Staff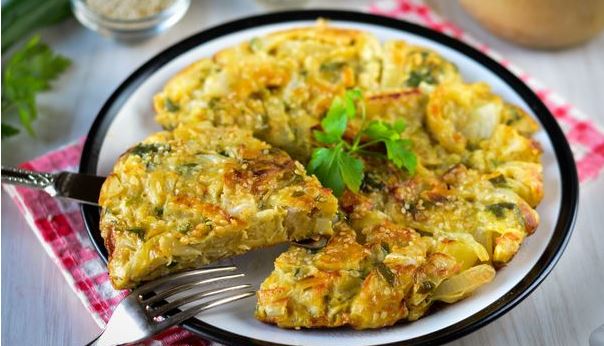 Cabbage casserole with bell peppers, herbs, and onions cooked in a pan is a simple but delicious dish. Due to the fact that the cabbage is used young, the casserole comes out so tender, just melting in the mouth. And thanks to the spices, the dish is aromatic and original.
Ingredients
White cabbage (young) – 500 g
Bulgarian pepper – 1 pc.
Bulb onions – 0.5 pcs.
Fresh parsley – 2-3 sprigs
Green onion – 3-4 feathers
Eggs – 2 pcs.
Wheat flour – 15 g
Corn starch – 15 g
Soy sauce – 2 tbsp
Dried garlic – 1/4 teaspoon
Ground coriander – 1/4 teaspoon
Ground turmeric – 1/4 teaspoon
Vegetable oil – 2 tbsp
Sesame seeds (for sprinkling) – 1 teaspoon
Ground black pepper (optional) – to taste
Directions
Prepare food. I use young cabbage. Old-crop cabbage takes longer to cook, so simmer for 15 minutes over low heat before mixing with the rest of the ingredients. Coarsely chop the young cabbage.
Peel and cut onions into half rings. Cut the bell peppers in half lengthwise, remove seeds and partitions. Cut the peppers across into thin strips. Add onions and bell peppers to the cabbage. Finely chop the parsley and green onions.
Add greens to cabbage with onions and peppers. Beat eggs with a fork. Pour the egg mixture over the cabbage and vegetables.
Also, add soy sauce. You don't have to add salt, as soy sauce is salty on its own. Be guided by your taste.
Add dried garlic, coriander, and turmeric. You can also add black pepper to taste. Add flour and starch. Mix.

Grease a frying pan (22-24 cm in diameter) with half vegetable oil, layout the vegetable mass and level. Sprinkle with sesame seeds. Cover the pan with a lid and cook the cabbage casserole over low heat for 5-7 minutes. Since the cabbage is young, it will cook quickly. The cabbage will also settle slightly during cooking.
Remove the lid, put a plate on top of a slightly smaller dia than the pan, so that it is convenient to turn the casserole. Turn the skillet over so the cabbage casserole is on the plate.
Grease the pan with oil again. Return the casserole to the skillet, unseated side down. Fry for another 5-7 minutes under the lid.
Turn the cooked casserole onto a wide plate and serve hot.
Enjoy your meal!
Also Like
Comments for "Cabbage Casserole with Bell Pepper (in a Pan)"