Stewed Cabbage with Mushrooms and Bell Peppers
by Editorial Staff
Stewed cabbage with mushrooms and sweet peppers is another interesting option for everyone's favorite dish. Champignons go very well with vegetables and add additional nutritional value to cabbage, and sweet pepper – a pleasant aroma.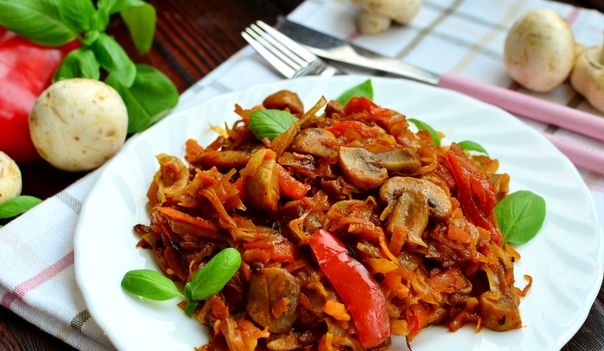 Cook: 50 mins
Servings: 5
Ingredients
White cabbage – 600 g
Champignons – 200 g
Bulgarian red pepper – 200 g (1 pc.)
Carrots – 100 g (1 pc.)
Bulb onions – 100 g (1 pc.)
Tomato paste – 1 teaspoon
Ground black pepper – 0.3 teaspoon
Salt – 0.5 teaspoon
Vegetable oil – 4 tbsp
Fresh basil (for serving) – 1 sprig
Directions
Peel the cabbage from the top sheets and chop with a knife or food processor.
Heat half of the vegetable oil (2 tablespoons) in a deep frying pan or saucepan. Add cabbage and sauté over medium heat, stirring occasionally, for about 8-10 minutes.
Add about 100 ml water to the pan, cover, and simmer over low heat for 20-30 minutes, until the cabbage is soft.

While the cabbage, onions, and carrots are stewing, peel and rinse. Cut the onion into small cubes, grate the carrots on a grater with large holes.
For champignons, refresh the stems and remove the damage. Wipe the mushrooms with a damp cloth and chop coarsely. Peel the bell pepper from seeds and stalks, rinse and cut into thin strips.
Heat the remaining vegetable oil in a second skillet. Add the onions and carrots and sauté until soft for 7-8 minutes.
Add bell peppers to the pan, fry for another 5 minutes.

Put the chopped champignons with the vegetables and fry together for another 5-7 minutes.
Add vegetables with mushrooms to the skillet with stewed cabbage, stir.
Dissolve the tomato paste with 100 ml of water and pour into the pan. Season the cabbage with salt and pepper. Cover the pan with a lid and simmer the contents over low heat for another 10 minutes.

Stewed cabbage with mushrooms and bell peppers is ready. Such cabbage can be both a side dish and an independent dish.
The dish is delicious both cold and hot.
Enjoy your meal!
Also Like
Comments for "Stewed Cabbage with Mushrooms and Bell Peppers"