Cheese Crust Sandwich
by Editorial Staff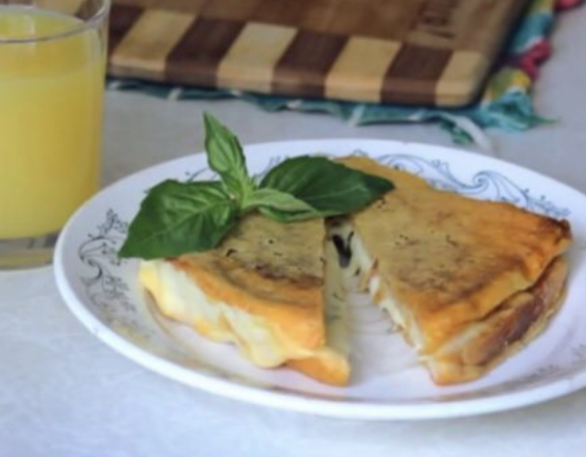 Superb quick cheese platter!
Ingredients
White toasts – 2 pcs.
Tilsiter cheese – 2 thin plates
Mozzarella cheese – 1 plate
Butter
Fresh basil
Directions
Grease two toasts with butter.
Then put in a frying pan (butter down) and fry.
While the toast is heating up, chop fresh basil.
The toast is warmed up. Put a plate of mozzarella cheese on one of them.
The cheese begins to melt, sprinkle the basil immediately.

And then cover with an empty toast. (Try not to delay the process, otherwise, the toast will burn. Better prepare the cheese and basil in advance.)
Put a plate of Tilsiter cheese on top of the sandwich.
And immediately turn the cheese over into the pan (hold the cheese with your fingers).
As soon as the cheese starts to brown from below (about 3 minutes), put another plate of Tilsiter cheese on top.
Turn over immediately and fry the same way on the other side.

Remove the finished sandwich from the pan and cut it in two at the corners.
Decorate with fresh basil.
Enjoy your meal!
Also Like
Comments for "Cheese Crust Sandwich"