Cheesecake with Almonds and Spices
by Editorial Staff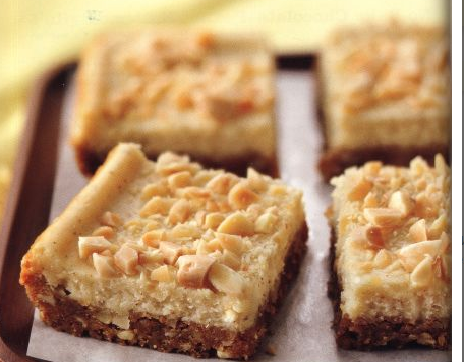 The cakes for this recipe are very similar to regular cream cheese cheesecake. But almonds, cinnamon, and nutmeg are added to this cheesecake, and after baking, the pie is cut into square cakes.
Cook: 2 hours 25 mins
Ingredients
For the basics:
Chopped sweet crackers – 2 cups
Melted butter (or margarine) – 0.75 cups (140 g)
Peeled almonds – 0.5 cups
Brown sugar – 0.25 cups (45 g)
Ground cinnamon – 1 tbsp
*
For filling:
Creamy soft cheese – 480 g
Whipped cream – 0.5 cups
Eggs – 2 pcs.
White sugar – 0.25 cups (45 g)
Brown sugar – 0.25 cups (45 g)
Ground nutmeg – 2 teaspoon
Vanilla sugar – 1 teaspoon
*
For sprinkling:
Peeled, chopped, roasted almonds – 0.5 cups
Directions
Preparing the ingredients for the pumpkin cheesecake.
Soak gelatin in water, use a saucepan for this.
We must interrupt the cottage cheese twice with a blender, so we can achieve a whole and delicate consistency. Add all the vanilla sugar and regular sugar. Beat again.
Add pumpkin puree to crushed cottage cheese with two types of sugar.
Without stopping whipping the cream cheese, gradually add all the sugar (brown, white and vanilla), nutmeg, cream and add eggs one at a time.
Pour the creamy mixture onto the base. Bake the cheesecake in the oven for 30-35 minutes, until the center grasps.
Sprinkle the finished cheesecake with toasted almonds, gently pressing it.
Chill cheesecake for 1.5 hours, then cut into 24 square cakes. Store Cheesecake in the refrigerator.
Bon Appetit!
Also Like
Comments for "Cheesecake with Almonds and Spices"