Cherry Banana Smoothie Bowl with Cottage Cheese and Oat Flakes
by Editorial Staff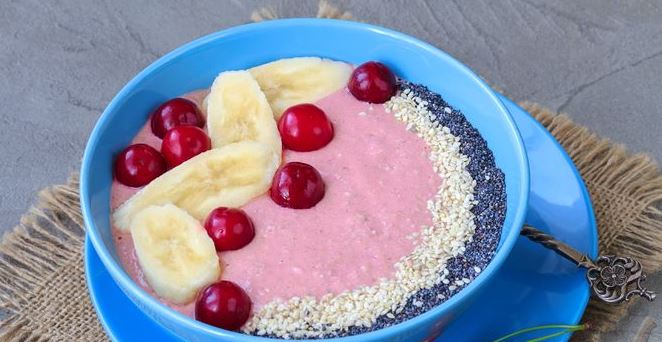 A colorful breakfast of simple ingredients in just 10 minutes – a healthy and delicious smoothie bowl with cherries, banana, cottage cheese, and oatmeal. Smoothie bowls are a great alternative to the usual cereals, they are thicker than regular smoothies and can be eaten with a spoon!
Cook: 7 minutes
Ingredients
Cherries – 220 g
Banana – 220 g
Cottage cheese – 100 g
Kefir – 100 ml
Oatmeal flakes – 60 g
Honey – to taste
Poppy – 1 teaspoon
Sesame seeds – 1 teaspoon
Directions
Wash and peel the cherries, retaining all the juice that has secreted. Peel the banana cut 3-5 thin slices, and save to garnish. Cut the remaining banana pulp into large pieces.
Measure kefir and cottage cheese into a blender bowl. Whisk the mixture for 1 minute.
Add the cherries and banana slices, saving 8-10 cherries for garnish. Whisk still for 1 to 2 minutes, until smooth.

Add oatmeal and honey. Whisk still for 2-3 minutes. If the mixture is not thick enough, add another 1-2 tablespoon. a spoonful of flakes, until the desired thickness is obtained.
Pour the mixture into a bowl, sprinkle with poppy seeds, sesame seeds and garnish with banana slices and cherries.
The cherry smoothie bowl is ready.
Bon Appetit!
Also Like
Comments for "Cherry Banana Smoothie Bowl with Cottage Cheese and Oat Flakes"