Chicken and Pineapple Sandwiches
by Editorial Staff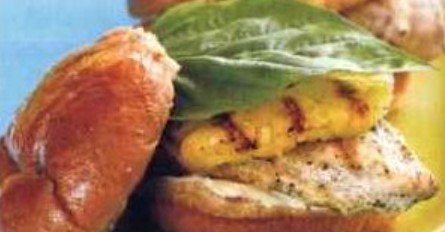 The chicken fillet and pineapple slices for these sandwiches are grilled and served with toasted buns made from whole grain flour.
Ingredients
Curineo fillet without skin – 4 halves, 180 g each
Fresh pineapple (peeled) – 4 slices 1 cm thick
Whole grain or regular burger buns – 4 pcs.
Salt – 0.5 teaspoon.
Ground black pepper – 0.25 teaspoon.
Vegetable oil
Lime juice – 0.25 cups
Mayonnaise (optional)
Basil – 4 leaves
Directions
Turn on the grill to preheat to medium-high temperature. Grease the wire rack with vegetable oil.
Sprinkle the chicken fillet with salt and pepper on all sides. Place the fillets on the grill rack, fry for about 5-6 minutes on each side, occasionally brushing with lime juice.
Put the pineapple slices on the grill, fry for 2-3 minutes on each side, until charred.
Cut buns in half, fry in a toaster or roaster. Grease the slices of the buns with mayonnaise (optional), between the two halves, put one chicken fillet, one pineapple slice, and one basil leaf. Form all the sandwiches in this way.
Also Like
Comments for "Chicken and Pineapple Sandwiches"