Chicken Fillet Sandwich
by Editorial Staff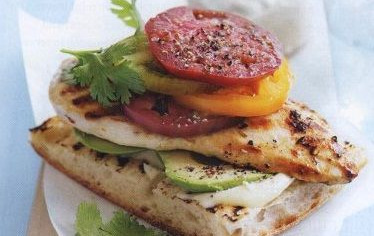 Delicious sandwiches can be prepared quickly and easily.
Servings: 4
Ingredients
Chicken fillet – 2 pcs. (200 g each)
Lime juice – 1 tbsp
Olive oil – 1 tbsp
Red pepper flakes – 1 teaspoon
Dried oregano – 1 teaspoon
Mayonnaise 1 tbsp
Avocado (cut into thin slices) – 1 pc.
Tomatoes (sliced) – 2 pcs.
Salt and black pepper to taste
Turkish tortilla (broken into 4 pieces) – 1 pc.
Parsley leaves for decoration
How to make a chicken sandwich:
Directions
Cut the chicken fillet in half lengthwise, each. Pour red pepper flakes, salt, black pepper, oregano into a large bowl, add lime juice and oil, stir and roll the chicken fillet in this mixture on all sides.
Heat the grill to medium heat, place the fillets on it and cook for about 4 minutes on each side.
Grease pieces of Turkish flatbread with mayonnaise and put avocado, chicken fillet, and tomatoes on each piece. Decorate the sandwiches with parsley.
Enjoy your meal!
Also Like
Comments for "Chicken Fillet Sandwich"