Chicken Soup with Egg Dough Rolls with Melted Cheese
by Editorial Staff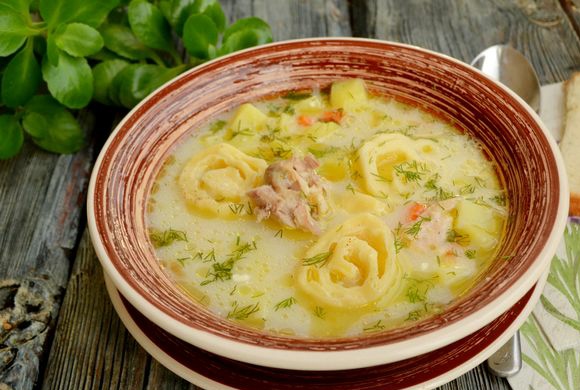 Recipe for chicken soup with dough rolls for egg noodles stuffed with processed cheese. The melted cheese dissolves inside the rolls, giving the soup a delicate creamy flavor. This soup will definitely appeal to all children.
Cook: 1 hour 20 minutes
Servings: 8
Ingredients
Chicken leg – 350 g
Potatoes – 3 pcs.
Processed cheese – 1 pc. (100 g)
Wheat flour – 100 g + for working with dough
Egg – 1 pc.
Carrots – 1 pc.
Bulb onions – 1 pc.
Vegetable oil – 3 tbsp
Salt – 1 teaspoon
Ground black pepper – 1/3 teaspoon
Fresh dill – 2-3 branches
Directions
Pour the chicken leg with 2 liters of cold water and put on high heat. After boiling, remove the resulting foam with a slotted spoon and cook the broth over low heat for 40-50 minutes, until the chicken meat is cooked. Cut the peeled onion into cubes. Heat vegetable oil in a frying pan and fry the onion until transparent, 3-4 minutes. Peel the carrots and also cut into cubes. Add the chopped carrots to the onions and sauté until soft, another 8 minutes.

For dough, beat an egg into a deep bowl and season with salt. Slowly adding wheat flour, knead the dough. Continue kneading the dough on the floured table. The egg dough is quite dense. Using a rolling pin, roll out the dough into a rectangle about 15 x 30 cm in size. The dough is stiff, so a little effort is needed.
Grate the processed cheese on a coarse grater and spread over the surface of the dough. Roll the filled dough into a tight roll along the long side. Pinch the edges of the dough into the resulting roll on all sides. Cut the roll into small roll pieces about 1.5 cm high. Remove the chicken meat from the finished broth and leave to cool. Strain the broth and return to the fire. Peel the potatoes, cut them into small cubes and place them in the boiling broth.

Then dip the egg dough rolls with melted cheese into the broth. Bring the broth to a boil again and cook until the rolls come to the surface. Cut the chicken meat into arbitrary pieces and dip in the broth. Then add the frying. Bring the soup to a boil again and simmer over low heat for 7 minutes. Chicken soup with egg dough rolls with melted cheese is ready.
It is better to add greens immediately to plates, since in hot soup it will quickly cook, losing its bright color and usefulness. Finely chop the dill greens. Pour the soup into bowls and add the chopped dill. Serve chicken soup with egg rolls to the table while it is still hot.
Enjoy your meal!
Also Like
Comments for "Chicken Soup with Egg Dough Rolls with Melted Cheese"