Chocolate Cookies "Oreo"
by Editorial Staff
Crispy shortbread sandwich with butter cream filling. Making chocolate cookies "Oreo" at home is easy and short-lived.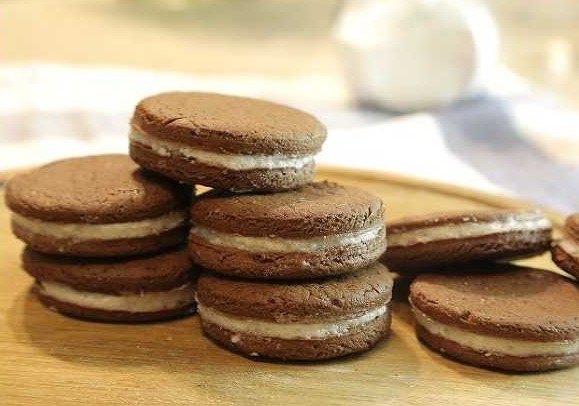 Ingredients
For the dough:
Softened butter – 150 g
Sugar – 150 g
Eggs – 2 pcs.
Flour – 300 g
Cocoa – 60 g
Baking powder – 1 teaspoon.
For filling:
Softened butter – 100 g
Powdered sugar – 250 g
Milk – 1 tablespoon.
Vanilla – to taste
Directions
Beat the softened butter with a mixer until light weight. Without stopping whipping the butter, add a little icing sugar. Then beat in the eggs, beat until smooth.
Sift flour, cocoa, baking soda and baking powder. Mix everything thoroughly.

Sift all dry ingredients again and add to butter. Mix.
Place the dough on a floured surface.
Knead the dough so that it does not stick to your hands. Divide into 4 parts, form each part into a ball and wrap in plastic wrap.
Place in the refrigerator for an hour.
After that, roll out the dough into a layer, about 0.5 cm thick. Cut out the circles (with a glass, a glass or a jar). Put dough circles on a baking sheet at some distance from each other (1-1.5 cm). Place the baking sheet in an oven preheated to 180 degrees. Bake shortbread for 10 minutes. Cool the finished chocolate chip cookies.

For the filling, beat the softened butter with a mixer. While continuing to beat, gradually add the powdered sugar and vanilla. Add milk, beat butter cream until fluffy.
Transfer the resulting cream to a pastry bag. Make a chocolate sandwich cookie with a filling.
Lubricate with cream, combine two shortbread cookies.

Homemade Oreo cookies are ready.
Bon Appetit!
Also Like
Comments for "Chocolate Cookies "Oreo""