Chocolate Muffins with Oreo Cookies and White Chocolate
by Editorial Staff
Sometimes you come across such unusual cupcake recipes that it is simply impossible to pass by! Take this one, for example, with Oreo cookies and white chocolate. When you bake such chocolate muffins, another pleasant nuance emerges: the entire cooking process, including baking, takes no more than half an hour!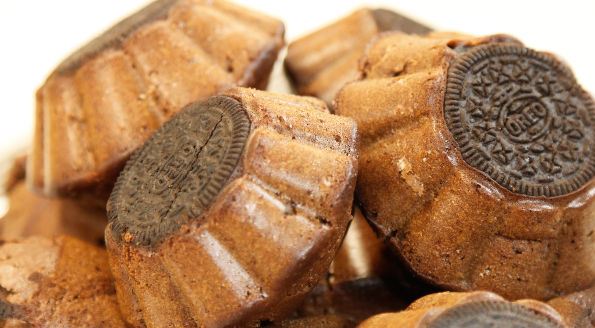 Ingredients
Eggs – 2 pcs.
Milk – 150 ml
Butter – 80 g
Flour – 175 g
Sugar – 160 g
Cocoa powder – 50 g
Baking powder – 2 teaspoon.
Oreo cookies – 12 pcs.
White chocolate – 12 pieces
Directions
In a bowl, mix 175 g of flour, 160 g of sugar, 50 g of cocoa.
Add 2 teaspoon. baking powder. We mix.
Pour in 150 ml of milk.
We mix.
Beat 2 eggs in another bowl and add them to the dough.

Add 80 g of melted butter.
We mix. The muffin dough is ready.
Put the Oreo cookie on the bottom of the muffin mold.
Fill with a spoonful of dough, not to the top of the mold.
Put a piece of white chocolate in the middle.
And pour the dough on top again, keeping in mind that the cupcakes will rise a lot during the baking process. We do this with all 12 future cupcakes.
We bake chocolate muffins with cookies and white chocolate for 15 minutes at 180 degrees. Bon appetit and don't be afraid to experiment!
Also Like
Comments for "Chocolate Muffins with Oreo Cookies and White Chocolate"