Pumpkin Cookies with White Chocolate
by Editorial Staff
Recipe for making cookies with pumpkin puree, cinnamon, spices, vanilla extract and pieces of white chocolate.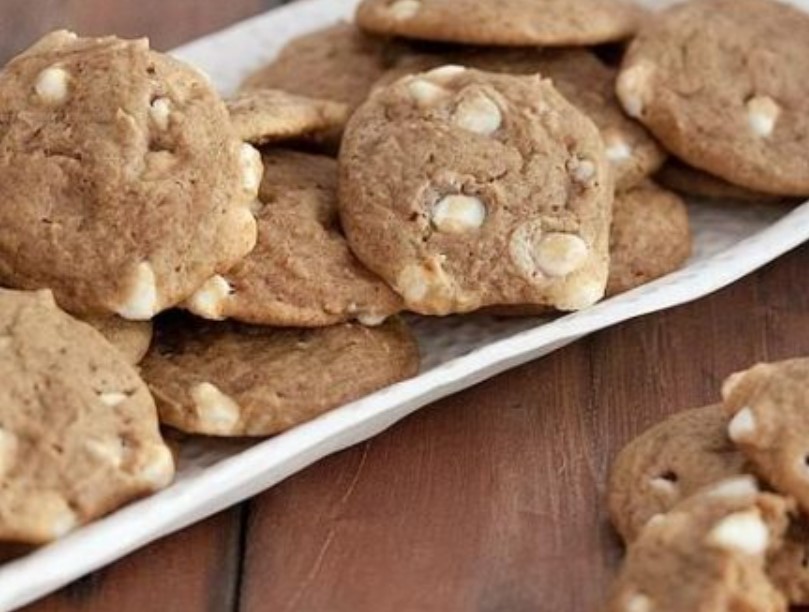 Cook: 25 mins
Servings: 36
Ingredients
Baking powder – 1 teaspoon
Soda – 1 Teaspoon
Ground cinnamon – 1 teaspoon
Pumpkin Pie Spice – 2 Teaspoons
Salt – 1/2 Teaspoon
Granulated Sugar – 1 Glass
Pumpkin puree – 1 Cup
Egg – 1 Piece
Vanilla extract – 1 Teaspoon
Directions
Preheat the oven to 175 degrees. Add flour, baking powder, baking soda, ground cinnamon, pumpkin pie spice, and salt to a large bowl. Stir with a fork until all ingredients are mixed together. Set aside.
In a medium bowl, beat the butter and sugar together with an electric mixer for a few minutes.
Add pumpkin puree, egg and vanilla extract. Mix thoroughly until smooth.
Slowly add the creamy mixture to the flour mixture and mix well until smooth.
Add chocolate chips and stir gently, being careful not to damage them.

Put the dough in the refrigerator for at least 20 minutes.
Using a spoon or scoop, place the dough on a baking sheet lined with parchment paper. Bake cookies for 10-12 minutes in a preheated oven. Allow to cool for a few minutes on a baking sheet and serve.
Bon appetit!
Also Like
Comments for "Pumpkin Cookies with White Chocolate"