Chocolate Roll with Cream Cheese Cream and Strawberries
by Editorial Staff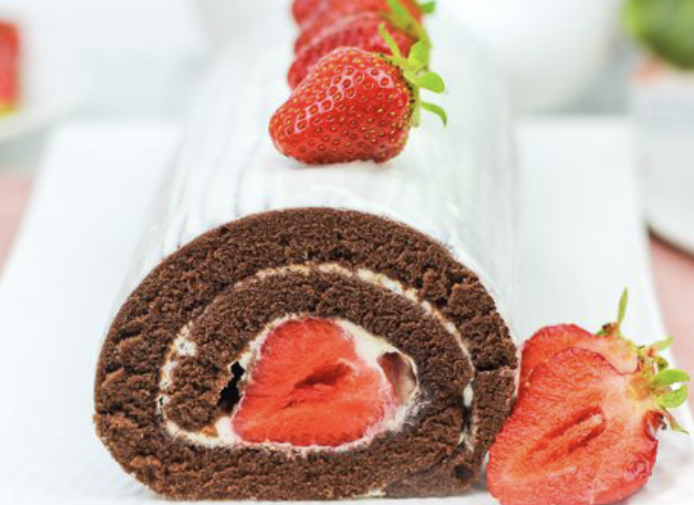 Simple and delicious! Delicate chocolate roll with strawberries. The combination of fresh juicy strawberries, delicate buttercream, and airy chocolate sponge cake – such a roll will not leave anyone indifferent. Amazing!
Ingredients
For the chocolate biscuit:
Eggs – 5 pcs.
Sugar – 120 g
Wheat flour – 110 g
Cocoa powder – 2 tbsp
Vanillin – 1.5 g
Baking powder – 1 teaspoon
Vegetable oil (refined) – 2 tbsp
For filling:
Cream (33% fat) – 200 g
Cream cheese (for example, "Hochland") – 200 g
Powdered sugar – 50 g
Strawberries or any other berries – to taste
Directions
Preheat the oven to 190 degrees.
Beat eggs until foam forms. Add sugar and vanillin.
Beat at high speed until the light, fluffy mass is formed.
Add cocoa and baking powder to flour, mix and sift to beaten eggs.
Stir with a whisk until smooth so that there are no flour lumps.
To prevent the biscuit from cracking when rolling into a roll, add vegetable oil and mix well again.

Cover the baking sheet (34×38 cm) with parchment paper. Pour out the dough and carefully distribute it over the baking sheet so that the dough layer is even.
We bake the biscuit at a temperature of 190 degrees for 10-12 minutes. If the dough is springy when pressed with a finger, then the biscuit is ready – we take it out of the oven.
Transfer the hot cake to a napkin or parchment. Remove the paper and turn it over again.
We wrap the biscuit together with the paper in a roll and let it cool slightly.
Preparing the cream.
Pour the chilled heavy cream into the bowl. Beat with a mixer at high speed until fluffy.
Add cream cheese and powdered sugar. And mix well again.
We unfold the roll, grease it with cream (leave some cream for decoration). Departing from the edge about 6 cm, layout the whole strawberry (leaving a few berries for decoration).

And turn the rollback.
We leave the roll in the paper, put it in the refrigerator to stabilize the cream for 3-4 hours.
Decorate the roll with cream and strawberries on top. Chocolate roll with cream cheese cream and strawberries is ready!
Enjoy your meal!
Also Like
Comments for "Chocolate Roll with Cream Cheese Cream and Strawberries"