Chocolate Squash Pie
by Editorial Staff
The recipe for this chocolate cake is very interesting! The fact is that there is grated zucchini in the dough, but this cannot be determined either by taste or by appearance. It is the grated zucchini that gives the cake moisture and juiciness, at the same time, the cake rises and bakes well, it turns out to be as chocolate and bubbly as a bar of porous chocolate. Try it!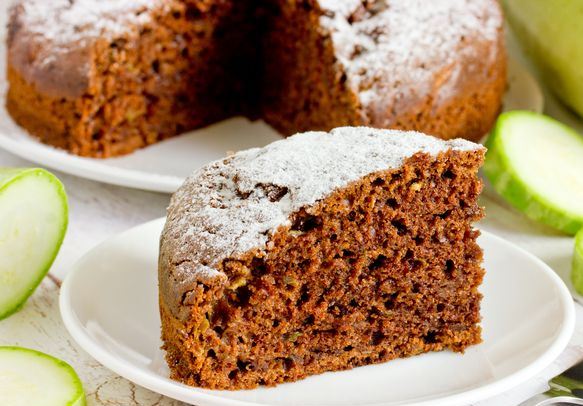 Ingredients
Young zucchini – 160 g (1 pc.)
Milk chocolate (or black) – 50 g
Refined sunflower oil – 100 ml
Egg (large) – 1 pc.
or eggs (small) – 2 pcs.
Sugar – 100 g
Flour – 130 g (1 glass with a capacity of 200 ml)
Cocoa powder – 1.5 tbsp
Baking dough – 1.5 teaspoon
Vanillin – 2 pinches
Powdered sugar – 0.5 tbsp
Directions
Prepare the required ingredients. Chocolate can be used both dark and milk. I used 1 large egg (80 g), if the eggs are small, then take 2 pcs. During the cooking process, you will need parchment paper.
Combine egg, sugar, sunflower oil and vanillin in a bowl.
Whisk the ingredients with a mixer on high speed for 2 minutes.
Sift flour, cocoa powder, baking powder into the resulting mixture.
Knead into a smooth dough that looks like melted chocolate. Turn on the oven to heat up to 180 degrees.

Wash the zucchini, trim the edges, grate on a coarse grater and squeeze out of the juice.
Transfer the zucchini pulp to the dough.
Chop the chocolate at random into a medium-sized crumb with a knife.
Add chocolate to the dough.
Mix thoroughly.
Cover the bottom of the baking dish with parchment (the dia of my split baking dish is 17 cm). Put the dough in a mold and send it to an oven preheated to 180 degrees for 40-45 minutes (be guided by the characteristics of your oven).
The chocolate zucchini pie is ready. Remove the finished cake from the mold and let it cool on a wire rack. Then transfer the pie to a serving platter and sprinkle with powdered sugar.
Cut the chocolate zucchini pie into portions and serve with tea or coffee.
Also Like
Comments for "Chocolate Squash Pie"