Christmas Cupcake
by Editorial Staff
Delicate, crumbly cake with a bright taste and enchanting aroma will decorate the Christmas table.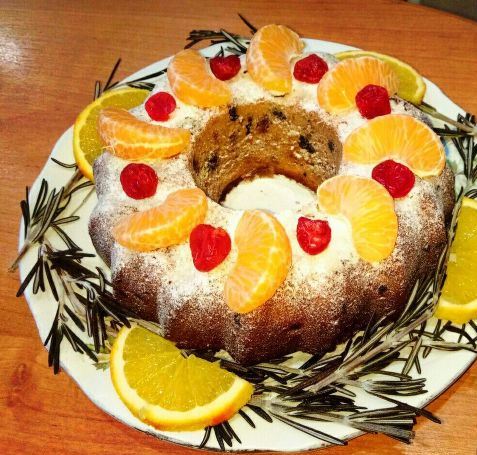 Ingredients
Flour – 150 g
Butter – 125 g
Eggs – 2 pcs.
Sugar – 100 g
Baking powder – 2 teaspoon.
Liqueur "Amaretto" or cognac – 4 tbsp
Dried fruits (raisins, dried apricots, dried cherries) – 250 g
Almonds and walnuts – 100 g
Orange (zest) – 1 pc.
Ground ginger – 0.5 teaspoon.
Ground cinnamon – 0.5 teaspoon.
Ground nutmeg – 0.3 teaspoon.
Ground cardamom – 0.3 teaspoon
Carnation – 5 pcs. (grind into powder)
Salt – 1 pinch
Vanillin – 1 g
Powdered sugar – for sprinkling on the cake
*
For decoration (optional):
Fresh rosemary
Mandarin
Cured cherries
Orange
Directions
Rinse dried apricots and raisins, cut dried apricots into medium-sized pieces. Pour the dried fruit with liquor for a day (it is better to put everything in a small jar so that you can shake the fruit and the aromas do not evaporate).
Before starting the preparation of the cake dough, turn on the oven and preheat to 180 degrees.
Dry the walnuts in a dry frying pan over low heat to make it easier to peel them. Then chop the walnuts and almonds into large pieces.
Beat butter at room temperature with sugar using a mixer.
Add 1 egg and beat for another 3 minutes. Add the next egg and continue beating.
Add spices, baking powder, salt, grated orange zest and beat everything.
Sift the flour and add to the dough in parts, beating everything well.
Add nuts and dried fruits to the dough (if not all alcohol is absorbed, then it must be drained). Stir the dough well so that all the tasty additives are well distributed.
Fill a silicone muffin pan with the dough and flatten the top. The baking time of the Christmas nut and dried fruit cake depends on the oven, but on average it is 30-45 minutes. Check the readiness of the cake with a wooden skewer, it must be dry.
Remove the finished Christmas cake from the oven and let it cool in the mold. Then carefully remove the cake from the mold and sprinkle with icing sugar.
You can decorate a holiday cupcake for Christmas, for example, with orange and tangerine slices, dried cherries and sprigs of fresh rosemary.
Also Like
Comments for "Christmas Cupcake"