Cupcake "Cow"
by Editorial Staff
Many people love "Korovka" sweets with an incomparable caramel-milk taste. So the "Ladybird" cupcake got the same name due to some similarity with this delicacy. Delicate, soft, moderately moist, with nuts, raisins, the aroma of caramel and boiled condensed milk – such a cake is eaten in a matter of minutes!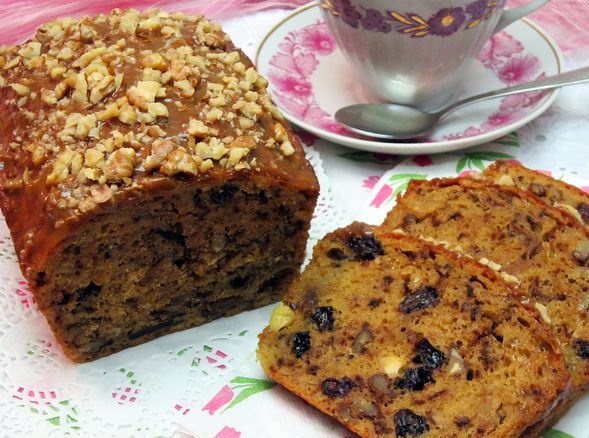 Ingredients
Flour – 150 g
Condensed milk boiled – 370 g
Walnuts (kernels) – 90 g
Raisins – 60 g
Milk – 70 ml
Sugar – 40 g
Eggs – 4 pcs.
Baking powder – 15 g
Butter – 20 g
Directions
Fill the raisins with warm (about 60 degrees) water for 15 minutes, then drain the water, and dry the raisins on a paper towel.
Break eggs into a bowl.
Beat the eggs with a mixer or whisk until smooth.
Add 270 g of boiled condensed milk.
Mix the condensed milk with eggs with a mixer for 3-4 minutes until smooth. Condensed milk should completely "disperse".

Add sifted flour, sugar and baking powder.
Mix everything again until smooth.
Fry the nuts lightly (2-3 minutes) in a dry frying pan.
Grind the nuts into large crumbs. Approximately 1 tbsp leave the chopped nuts to decorate the cake.
Add nuts and raisins to the dough.

We mix everything.
Grease the cake pan (I have 10×20 cm) and cover it with baking paper. We also grease the paper with oil. If the mold is silicone, you do not need to lay the paper.
Pour the dough into a mold. We bake the cake in an oven preheated to 180 degrees for about 40 minutes. We check the readiness with a wooden stick. When piercing the product, the surface of the stick should remain dry.
Photo of the recipe preparation: Cupcake "Cow" – step number 14
While the cake is baking, prepare the sauce. Add the remaining condensed milk (100 g) to the hot (do not bring to a boil) milk.
We mix everything until the condensed milk dissolves. To better dissolve the condensed milk, I stirred it without removing it from the heat. The fire should be small so that the condensed milk does not burn.
Leave the finished sauce to cool.
We take out the cake from the oven. We make a large number of punctures on the surface of the hot cake with a wooden stick or fork.
Fill the cake with the sauce right in the mold.
Sprinkle with the remaining nuts on top and leave for 1 hour.
After that we take the cake out of the mold.
Also Like
Comments for "Cupcake "Cow""