Cinnamon Rolls
by Editorial Staff
Delicious and aromatic buns.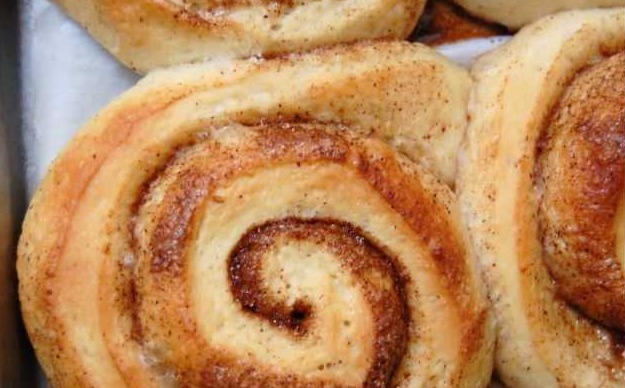 Ingredients
Dry yeast – 1 sachet (11 g)
Flour – 0.9-1 kg
Salt – 0.5 teaspoon
Sugar – 120 g
Milk – 0.5 l
Eggs – 1-2 pcs.
Butter (or margarine) – 200 g (including for filling)
Sugar to taste
Ground cinnamon – to taste
Egg (for greasing buns) – 1 pc.
Directions
Making yeast dough. To do this, first mix the dry ingredients of the dough – sifted flour, sugar, yeast and salt.
Mix milk with egg and melted butter. The mixture should be at room temperature or slightly warmer for the yeast to take effect later.
Now combine both mixtures and knead the dough. We use 50 g of flour that we have left for adding when kneading the dough. Do not try to pour them out at once, it is better to add gradually. The dough should be soft, elastic and stick well from your hands.
Put the dough in a larger bowl, cover with cling film and place in a warm place to rise for about an hour. You need the dough to double.
Knead the dough and leave to rise again. Roll out the dough that has come up twice into a rectangular layer 0.5-1 cm thick.
Grease the dough with melted butter, sprinkle with sugar mixed with cinnamon.
Roll the dough into a tight roll on the smaller side, and cut across, into slices 1.5-2 cm thick.
Cover the baking sheet with baking paper and lay out future buns on it, leaving enough free space between them for lifting.
Lubricate each bun with a beaten egg (you can also sprinkle the buns with sugar on top) and put in an oven preheated to 180 degrees. Bake cinnamon rolls until golden brown, about half an hour.
Bon Appetit!
Also Like
Comments for "Cinnamon Rolls"