Cinnabon Cinnamon Rolls
by Editorial Staff
Cinnabon cinnamon rolls are delicious and high-calorie rolls. You can even say that these are not just buns, but cakes! You should definitely try them!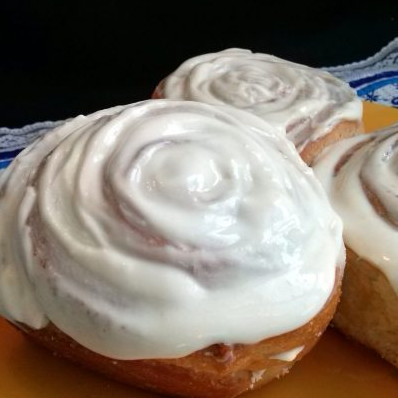 Cook: 3 hours
Serving: 12
Ingredients
Flour – 600 Grams
Milk – 200 Milliliters
Dry yeast – 1 teaspoon
Sugar – 100 Grams
Egg – 2 Pieces
Salt – 1/2 Teaspoon
Butter – 80 Grams
Cinnamon – 1 Teaspoon (filling)
Vanillin – 1 Pinch (filling)
Sugar – 1 Glass (filling)
Cream cheese – 50 grams (cream)
Butter – 40 grams (cream)
Powdered sugar – 2 Tbsp. spoons (cream)
Directions
Dissolve yeast and 1 teaspoon. sugar in warm milk, set aside for 10-15 minutes. Stir the remaining sugar with eggs, add soft butter and salt, yeast and flour. Knead the dough.
Cover the dough, place in a warm place for 90 minutes to rise. Can be left in the multicooker bowl with the lid closed. The dough should double in size.
For the filling, combine sugar, vanillin and cinnamon. According to the original recipe, use 3 tablespoon. cinnamon. No offense to famous pastry chefs will be said, but in my opinion so much cinnamon is too much. So I only add a teaspoon. Roll out the matching dough into a 30x40cm rectangle. and brush on top with softened butter. Sprinkle the filling on top, leaving 3 cm on one edge so that the roll does not unfold. Roll the dough into a tight roll.
Use a sharp thin knife to cut the roll into 12 pieces (2.5 cm each). Put the resulting rolls on a baking sheet lined with a silicone mat (or parchment) at a distance of 3 cm from each other. Cover the dish with cling film (towel) and leave to rise for one hour. Here the buns have risen and slightly touched each other.

Preheat oven to 180 degrees and bake buns for 20-25 minutes.
While the buns are baking, prepare the cream. Combine cream cheese with softened butter, powdered sugar and vanilla. Do not remove the finished rolls from the mold. Let them cool for about 5 minutes and then apply the cream.
Bon Appetit!
Also Like
Comments for "Cinnabon Cinnamon Rolls"