Creamy Cinnamon Rolls
by Editorial Staff
Delicate cinnamon buns with a creamy taste will bring the whole family to the table.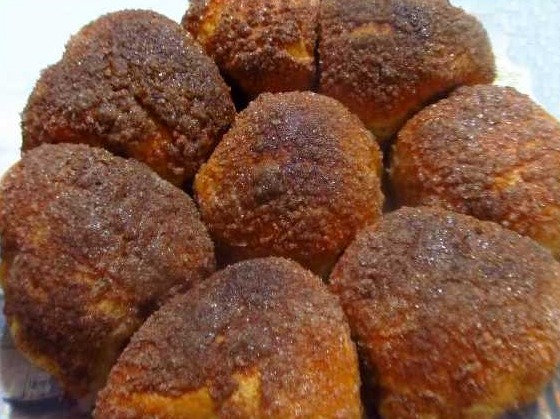 Ingredients
Warm milk – 120 g
Butter – 100 g
Egg – 1 pc.
Dry fast-acting yeast – 2 teaspoon
Flour – 300 g
Salt – 1 pinch
Sugar – 1 glass
Cinnamon – 1 tablespoon
Directions
Divide the butter in two, 50 g each. Melt one part in warm milk over low heat. Remove the milk and butter from the stove, let cool to a temperature of about 30-35 degrees.
Melt the second 50 g of butter and pour into a small but deep bowl.

Combine 1/2 cup cinnamon sugar in a bowl.
Mix yeast with flour (it was indicated on the package, you act according to your instructions). Combine warm milk with 1/2 cup sugar, egg, salt and flour. Knead the dough, cover and place in a warm place for 1.5-2 hours to rise.
The matched dough.
Pound the dough that has come up and place on a floured table.
Divide the dough into 8 equal pieces.
Form round balls out of them.

Take one ball at a time, dip on all sides, first in melted butter and then in cinnamon sugar. Place in a lined baking dish.
Cover with a clean towel and place the cinnamon rolls in a warm place for 15-20 minutes.
During this time, the creamy cinnamon buns will rise and drizzle with the remaining melted butter.

Send the blanks to the oven, preheated to 180 degrees and bake the creamy cinnamon rolls for 20-25 minutes.
Bon Appetit!
Also Like
Comments for "Creamy Cinnamon Rolls"