Cinnamon Tea Rolls
by Editorial Staff
Every housewife should know how to make cinnamon tea rolls, aromatic pastries that can warm up on a cold winter day. The buns are very easy to prepare, fluffy and delicious.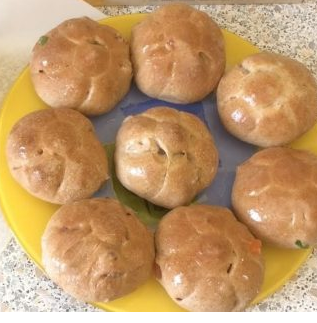 Cook: 4 hours
Serving: 8-10
Ingredients
Wheat Starter – 30 Grams
White wheat flour – 725 grams (135 g in leaven, 600 g in dough)
Sourdough (dough) – 270 Grams
Butter – 75 Grams
Dried fruits – 150 Grams
Sugar – 55 Grams (+ 2 tbsp for icing)
Warm milk – 190 Milliliters
Room temperature water – 135 Milliliters
Salt – 1 Teaspoon
Cinnamon – 1-1.5 Tbsp. spoons
Milk – 4 Art. spoons
Egg – 2 Pieces
Directions
Prepare the starter culture: mix the water with the starter starter culture, mix well. Add flour and stir well again. Cover with plastic wrap and leave at room temperature for 8 hours
Grind the sifted flour with butter until crumbly. Add dough, warm milk, salt, cinnamon, sugar, eggs, a mixture of dried fruits and candied fruits. Knead the dough for 5 minutes at 2 speeds in a kneader
Place the dough in a greased bowl. Cover with plastic wrap and leave at room temperature for 3-4 hours. Place the dough on a floured surface, gather the edges of the dough in the middle and shape into a ball.
Divide the dough into 16 pieces and form into balls. Shape into buns and place on a parchment-lined baking sheet. Cover them with plastic wrap and leave at room temperature for 1 hour.

Bake buns in an oven preheated to 180 degrees for 20 minutes. Prepare the icing: mix the cream and sugar, put on fire, bring to a boil and cook until the sugar is completely dissolved
Grease warm rolls with glaze.
Bon Appetit!
Also Like
Comments for "Cinnamon Tea Rolls"