Cookies with Cheese and Olives
by Editorial Staff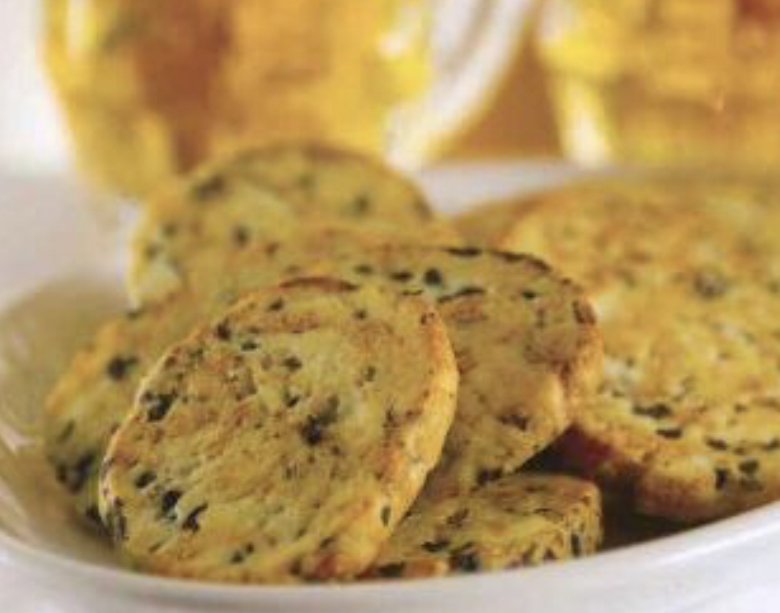 Unsweetened biscuits with cheese and olives are a great beer snack.
Ingredients
Parmesan cheese (shredded on a grater) – 75 g
Pitted black olives (chopped) – 100 g
Butter (diced) – 150 g
Milk – 125 g
Flour – 300 g
Baking powder – 1 teaspoon.
Salt – 0.5 teaspoon.
Sugar – 0.25 teaspoon
Directions
In a bowl, combine flour, baking powder, salt, sugar, and butter, stir well until crumbly. Add 90 g milk and cheese, knead to a homogeneous dough. Add olives to the dough (if the dough is loose, add the remaining milk and mix until smooth) (it is very convenient to knead such dough in a food processor). Form the dough into a ball, divide into two equal parts, roll each part into a roll with a diameter of 5 cm. Wrap these two rolls in plastic wrap and put them in the freezer for 45 minutes.
Turn on the oven to preheat to 180 degrees. Cover two large baking sheets with parchment.
Remove the dough from the refrigerator and cut the rolls into 5 mm thick slices. Place the circles on prepared baking sheets at a distance of 4 cm from each other. Place in a preheated oven, bake cookies with cheese and olives for about 10-12 minutes, until golden brown. Chill ready-made biscuits with cheese and olives on a wire rack at room temperature.
Enjoy your meal!
Also Like
Comments for "Cookies with Cheese and Olives"