Cookies with Curd Cheese
by Editorial Staff
I just can't wait to share with everyone the recipe for cookies with curd cheese, originally from sunny Italy. It is prepared very simply and quickly, everyone will like it!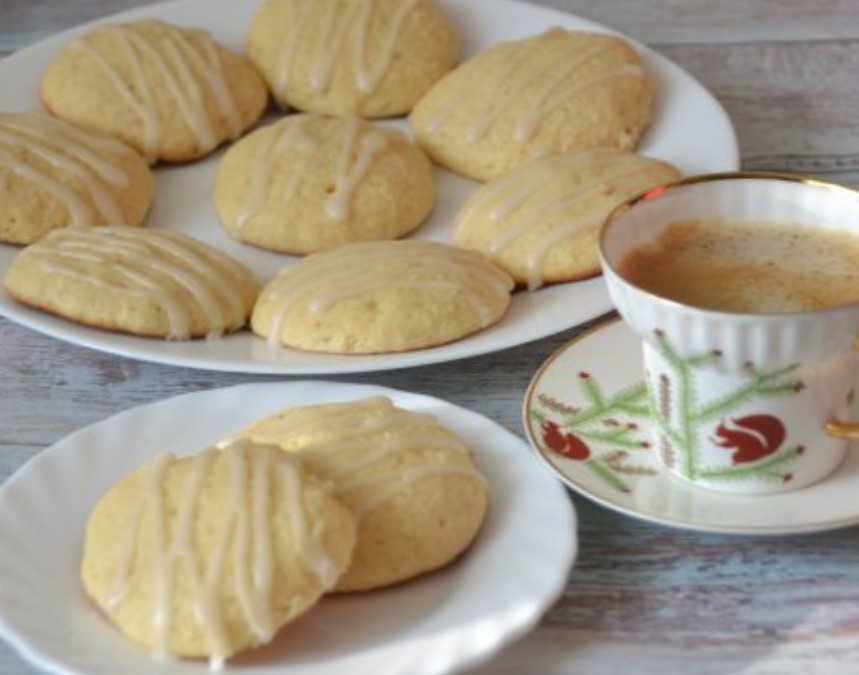 Cook: 1 hour
Servings: 5
Ingredients
Lemon Zest – 1 Teaspoon (fresh or dry)
Egg – 1 Piece
Flour – 200 Grams
Baking powder – 1 teaspoon
Salt – 1/4 Teaspoon
Butter – 60 Grams (softened)
Sugar – 140 Grams
Curd cheese – 100 grams (I have ricotta)
Lemon juice – 3.5 Tbsp spoons (1.5 tablespoons – in the dough, 2 tablespoons – in the glaze)
Vanilla sugar bag – 1 Piece
Powdered sugar – 80 Grams (for glaze)
Directions
Prepare your ingredients.

Combine flour, baking powder and salt.
Whisk in the softened butter and sugar, then add the egg and beat until fluffy.
Add ricotta to the dough, 1.5 tablespoon. tablespoons of lemon juice, fresh or dry lemon zest, vanilla sugar, beat the mass.
Add flour mixture.
Knead the dough with a mixer.
Using a tablespoon or ice cream spoon, place the dough on a baking sheet lined with baking paper.
From this amount of dough, 15-16 pieces are obtained.
You can smooth the cookies with a wet finger before baking.

Bake cookies at 180 degrees for 15-17 minutes, the cookies should not brown too much, otherwise they will be tough.
Transfer the cookies to a wire rack, and let cool to room temperature.
While the cookies are cooling, prepare the lemon frosting by mixing the icing sugar with two tablespoons of lemon juice. Add lemon juice in parts so that the icing does not turn out to be liquid.
For the convenience of applying the icing, transfer the cooled cookies back to the baking sheet, put the icing sugar in a pastry bag and apply the icing mesh to the cookies, the icing dries quickly enough.
It turned out to be a soft and very tasty cookie with a spicy lemon sourness. It goes well with tea and coffee. It is better to store such cookies in a closed container so that they do not dry out and remain tender and crumbly.
Bon appetit!
Also Like
Comments for "Cookies with Curd Cheese"