Cottage Cheese Lemon Raisin Cake
by Editorial Staff
Homemade cottage cheese dough cake with raisins and lemon zest – a pastry that will bring the whole family around the table! Delicious, aromatic, with a pleasant densely moist crumb, the curd-lemon cake does not lose its taste even on the second day after baking!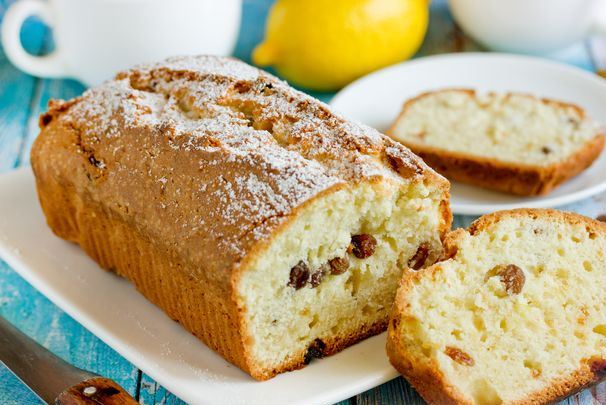 Ingredients
Cottage cheese – 130 g
Flour – 150 g
Butter – 75 g
Sugar – 165 g
Eggs – 2 pcs.
Baking powder – 0.5 teaspoon with a slide
Raisins – 2 tbsp
Lemon – 0.5 pcs.
Powdered sugar – 2 teaspoon
Directions
Beat soft butter and sugar with a mixer for 5 minutes.
Add soft, fatty cottage cheese to the resulting oil mixture. Whisk everything together for another 2 minutes. The curd should combine with the butter mass as evenly as possible. If there are grains in the curd, it is better to wipe it through a sieve beforehand.
Grate the zest of half a lemon on a fine grater.
Add 2 eggs and grated lemon zest to the curd-butter mass.
Mix everything again with a mixer.
Combine flour with baking powder, sift into curd mixture.

Knead the dough. Add the raisins, previously washed and dried.
Turn the oven to 170 degrees to preheat. Stir the raisins into the dough. The dough is quite dense.
Cover a rectangular baking dish with parchment and place the curd dough in it. The size of my form is 20x10x6 cm.
Bake curd cake with raisins and lemon zest in an oven preheated to 170 degrees for 50-60 minutes.
Remove the prepared lemon-curd cake from the mold and let it cool completely (this is important!), Then sprinkle with powdered sugar.
Cut the curd-lemon raisin muffin into pieces and serve.
Also Like
Comments for "Cottage Cheese Lemon Raisin Cake"