Curd Crumble with Apple
by Editorial Staff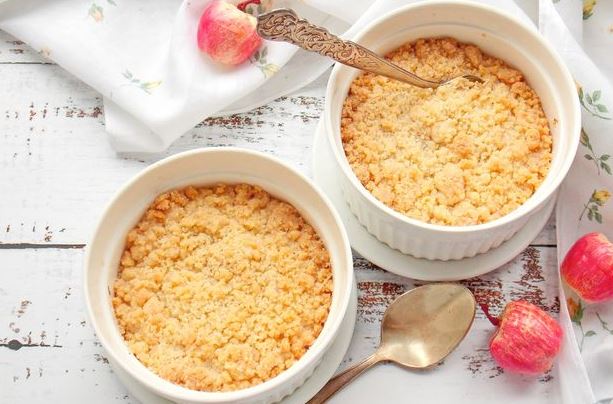 Crispy sand crumbs and the most delicate cottage cheese and apple filling. Lovers of curd baked goods will appreciate this delicious crumble. It tastes good both warm and cold.
Cook: 20 minutes
Servings: 3
Ingredients
For the test:
Butter – 50 g + for lubricating molds
Sugar – 50 g (2 tablespoons with a slide)
Flour – 75 g (5 tablespoons)
For filling:
Cottage cheese – 200 g
Sugar – 25 g (1 tablespoon with a slide)
Starch – 1 tbsp
Apple – 100 g (1 pcs.)
Directions
Sift the flour. Add sugar and stir. Grate the frozen butter on a coarse grater and add to the flour with sugar.

Quickly rub the butter and flour/sugar mixture into crumbs with your hands. Put in the refrigerator.
Turn on the oven to heat up to 200 degrees. Put cottage cheese and sugar in a bowl, rub thoroughly until smooth. Pour starch into the curd mass and mix until smooth.
Wash and peel the apple and peel it. Grate the apple pulp on a coarse grater and add to the curd mass. Lubricate the baking tins (I have ramekins) with butter. Place the apple cottage cheese filling on the bottom of the molds, spreading out evenly.

Remove the flour crumbs from the refrigerator and sprinkle the filling in the tins, also trying to distribute them evenly. It may seem that there are too many crumbs, but this is not the case.
Cook curd crumble with an apple in the oven at 200 degrees for 35 minutes, until golden brown.
Let the crumble cool until warm and serve.
Bon Appetit!
Also Like
Comments for "Curd Crumble with Apple"