Dog Cake
by Editorial Staff
I want to tell you how to make a cake in the shape of a dog at home. Both you and your guests will be delighted, because this is a very rich chocolate cake with cherries, which also looks unusual!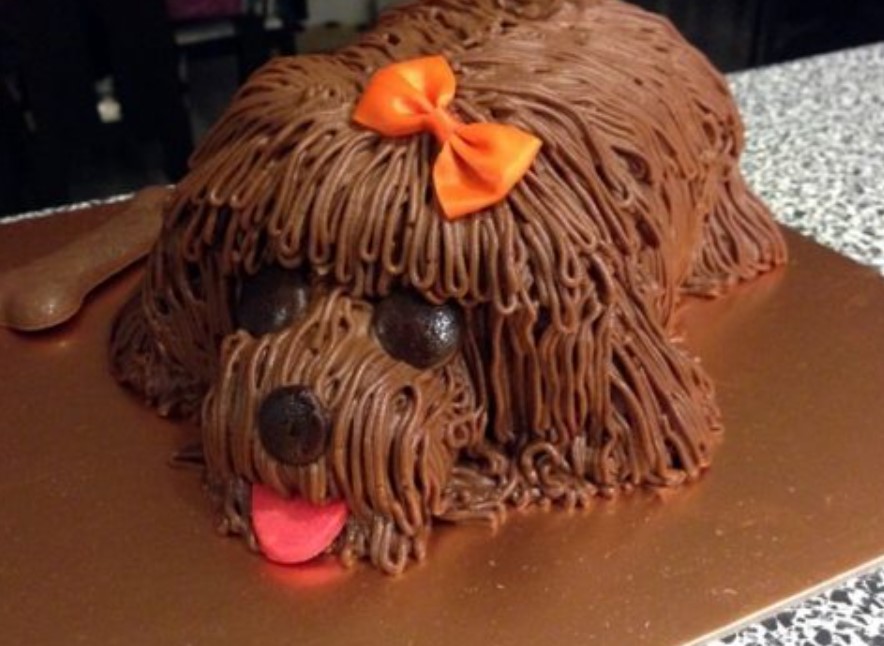 Cook: 1 hour
Servings: 4-5
Ingredients
Flour – 1.5 Cups
Cocoa – 0.3 Cups
Coconut oil – 0.5 cups
Sugar – 0.5 cups
Strong coffee – 1 Glass (best of all – brewed, but instant coffee is also possible)
Cherries – 1.5 Cups
Soda – 1 Teaspoon
Vanillin – 1 Teaspoon
Wine – 2 Art. spoons (red dry)
Chocolate – 300 Grams
Butter – 100 grams
Decor – To taste (I have chocolate circles for the eyes and nose, bow and tongue – artificial)
Directions
So, carefully wash the cherries, dry them, take out the seeds. We try not to miss a drop of juice: it will make the cake tastier. So clean right over the bowl where the dough will be.
Add all dry ingredients to the juice: flour, cocoa, sugar, soda and vanillin. Mix together, add sugar, coconut oil (pre-melt), coffee, cherries and wine. Mix thoroughly.

If possible, bake an oval cake. Or we make a cake of any shape, and then cut off the excess to make an oval. We will make five circles from the remnants, put them in a circle – these will be the dog's paws and muzzle.
Melt the butter and chocolate in a water bath, pour through a plastic bag with a hole or with the help of a cooking syringe the cake abundantly on top to make "wool". When it hardens, we decorate the cake so that it turns out to be a dog!
Bon appetit!
Also Like
Comments for "Dog Cake"